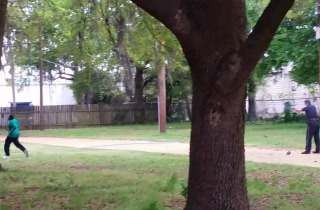 An audio recording obtained by the Guardian allegedly records a discussion between Officer Michael Slager and a senior officer in the minutes after the fatal shooting of Walter Scott. Slager was charged with murder for the shooting after cell phone video emerged showing him gunning down Scott as the suspect fled.
On the recording, a voice reported to be Slager's asks "What happens next?"
"Probably once they get you there, we'll take you home," the other officer said. "Take your crap off, take your vest off, kind of relax for two or three."
"It'll be real quick," he continued. "They're gonna tell you you're gonna be out for a couple of days and you'll come back and they'll interview you then. They're not going to ask you any kind of questions right now. They'll take your weapon and we'll go from there."
RELATED: Geraldo: Dashcam Video Gets Officer Slager Off His Murder Charge
"By the time you get home, it would probably be a good idea to kind of jot down your thoughts on what happened. You know, once the adrenaline quits pumping."
"It's pumping," Slager replied with a laugh.
Authorities have not confirmed the authenticity of the recording, though a spokesperson for the investigating unit said it "appeared" Slager's voice was the one on the tape.
Slager initially said he had shot Scott after the suspect reached for his taster. A subsequent cell phone video in fact showed Slager firing at Scott as he fled, and later appearing to plant a taser next to his body. Many have called for the second officer on the scene to be charged as an accomplice.
Listen to the recording below, via the Guardian:
[Image via screengrab]
——
>> Follow Evan McMurry (@evanmcmurry) on Twitter
Have a tip we should know? tips@mediaite.com