Released Lockerbie Bomber Mess Deepens, As British Government Admits Mistake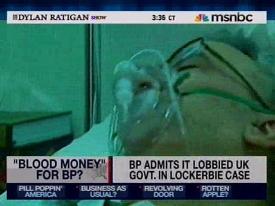 The utter disgrace to the British justice system that is the release and subsequent good health of convicted terrorist Abdel Baset al-Megrahi got significantly more embarrassing this week – with the news that BP (of all oil companies) lobbied for the release in order to begin drilling in Libya.
Now, finally, the British government is admitting it was a "mistake" to release al-Megrahi in the first place.
It was the report that al-Megrahi, convicted of killing hundreds in the Pan Am Flight 103 bombing that killed hundreds over Lockberie, Scotland, would only live another three months that led to his release initially. Well now that the same doctor says he could live another 10 years, the government is finally admitting some fault:
It was a mistake to release convicted Lockerbie bomber Abdelbeset Ali Mohmed Al Megrahi, Britain's ambassador to the United States said Friday.

The British government believes it was wrong to let Al Megrahi out of prison and return home to Libya in August 2009, Ambassador Nigel Sheinwald said in a statement. The government at the time also felt the same way, he said.
When this was first happening back in August, it was a small story in the American media. The news was dominated by health care coverage and town halls, and the international story was not given major airtime on the cable news networks. As outrage grows, and BP becomes a player now, this story deserves another chance at breaking into the regular cycle.
According to TV Eyes, CNN has mentioned the story just 18 times this week, and FNC has just 16 times. The network that has given it the most play is MSNBC, with 43 mentions. That is mostly driven by Morning Joe and Dylan Ratigan – who was one of the only cable news hosts to cover the story relentlessly back in August and September.
Now that the British government is speaking out, the American media should take another hard look at the circumstances surrounding the release, and the deals reached to let a terrorist see freedom.
—–
» Follow Steve Krakauer on Twitter
Have a tip we should know? tips@mediaite.com