Rep. Adds Line on Immigration Reform to GOP's Spanish-Language SOTU Response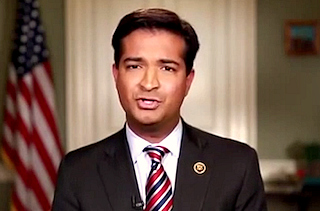 When Representative Carlos Curbelo (R-FL) gave the Spanish-language version of Senator Joni Ernst's (R-IA) official GOP response to the State of the Union last night, there was one significant difference: Curbelo's Spanish language version addressed immigration reform, while Ernst's skipped it entirely.
"We should work through the appropriate channels to create permanent solutions to our immigration system, modernize legal immigration, and strengthen our economy," Curbelo said according to Mother Jones
The line, first noticed by liberal research PAC American Bridge, doesn't appear in Ernst address, which otherwise addresses tax reform, ISIL, repealing Obamacare, and abortion.
The Senate passed a bipartisan immigration reform bill in 2013 but it died in the House of Representatives; immigration is seen a pivotal issue for the GOP, which risks ceding a rapidly growing voting demographic to Democrats.
Curbelo, who supports comprehensive immigration reform (or is "pro amnesty"), said he made the addition on his own and received "no pushback" from GOP leaders. He dismissed any criticism of disparities between the two responses.
"That's a shame that Democrats would try to criticize us for each of us having our own priorities and ideas and making them known," Curbelo told Politico. "I think leadership should be commended for encouraging those it selects to talk about their lives, their priorities and their vision."
Mother Jones had previously pointed out that the Spanish-language translation Ernst's speech was awkward, as she has pushed for English-only laws in the past.
Watch video of the line below, via American Bridge:
[h/t Mother Jones]
[Image via screengrab]
——
>> Follow Evan McMurry (@evanmcmurry) on Twitter
Have a tip we should know? tips@mediaite.com