Rep. Bachmann: "Far-Left" Michelle Obama Literally Makes Government The Nanny With Breastfeeding Push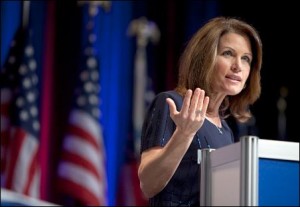 Given First Lady Michelle Obama's efforts to promote breastfeeding as part of her campaign to fight childhood obesity and now news that the IRS will allow breast pumps and other nursing supplies to qualify for tax breaks, such "nanny-state" intrusion predictably would upset some conservatives. And not surprisingly, the always outspoken Republican Congresswoman Michele Bachmann eagerly stepped up to rock the cradle.
Appearing on Laura Ingraham's radio show, Bachmann ridiculed the liberal notion that the government is the answer to every problem and exclaimed, "to think that government has to go out and buy my breast pump for my babies – you want to talk about the nanny state – I think you just got a new definition for the nanny." Furthermore, Ingraham believed that the First Lady was gearing up to eventually run for Senate in the future, while Bachmann was only sure that Michelle Obama is "really committed to the far-left agenda."
On Fox News, the emerging breastfeeding battle was played out with Megyn Kelly and her guests as they debated whether the First Lady should keep her nose out of such decisions or whether it might actually be a good idea to encourage breastfeeding. Kelly's conclusion was that many women in the workplace, and especially in a newsroom, need a separate place to breastfeed, therefore forcing employers to have a pumping room isn't such a bad idea.
Listen to the clip from The Laura Ingraham Show below:

And listen to a discussion of the issue on Fox News led by Megyn Kelly below:

Have a tip we should know? tips@mediaite.com