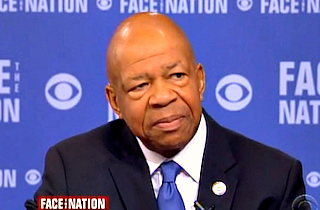 Representative Elijah Cummings (D-MD), the ranking member on the House's Benghazi Select Committee, accused unidentified members of that committee Monday of leaking intentionally misleading information to the press.
In a memo to committee chair Trey Gowdy (R-SC), Cummings cites a July 17 Politico story about the committee's interrogation of Clinton confidant Sidney Blumenthal, who emailed Clinton often from Libya after the 2012 assault on the U.S. Consulate in Benghazi.
The story cites a single unnamed source in describing a series of emails between Clinton and Blumenthal, in which it appears Blumenthal fed the then-Secretary of State talking points collected by Media Matters about the GOP response to Benghazi. Blumenthal seems to have been on the payroll of just about every actor in the exchange.
The source also alleged that the emails in question had not been turned over to the State Department, intimating an attempt by Clinton to hide the exchange.
But Cummings asserted that the email exchange, which he would have been privy to on the Committee, in no way occurred as it was portrayed in the Politico article, and that the committee had had access to emails for months.
"It appears that this source fed Politico an inaccurate characterization of these emails and that Politico accepted this mischaracterization without obtaining the emails themselves," Cummings wrote in his memo, adding:

"It now appears that someone who was given access to the Select Committee's documents leaked doctored information to the press in order to make unsubstantiated allegations against Secretary Clinton," Cummings wrote, adding that Gowdy had repeatedly refused to implement rules governing the handling of sensitive documents.
Read the full memo here, via Rep. Cummings.
[Image via screengrab]
——
>> Follow Evan McMurry (@evanmcmurry) on Twitter
Have a tip we should know? tips@mediaite.com