Rep. Joe Walsh Accuses Iraq Vet Of Not Being A 'True Hero' For Talking Too Much About Losing Her Legs (UPDATED)
Rep. Joe Walsh Accuses Iraq Vet Of Not Being A 'True Hero'...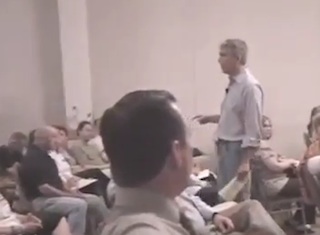 You almost have to feel bad for Congressman Joe Walsh. The freshman Tea Partier is running for reelection against Democrat Tammy Duckworth who just so happens to be a Purple Heart-winning pilot who, at the end of 20 years of service, lost both her legs when an RPG hit her helicopter in Iraq. How is someone like Walsh supposed to get voters to believe he cares the most about America when he's stuck standing next to someone like that?! Well, I'm sure there are some ways for Walsh to look good in comparison but perhaps the strategy he ended up taking wasn't one of them…
RELATED: GOP Rep. Joe Walsh Calls Jesse Jackson 'A Race Hustler' In Tense O'Reilly Interview
Walsh has rallied against people with good optics before, y'know, with his repeated assertions that America only elected President Obama because he's black. So discrediting a war hero shouldn't be too hard. And, as Think Progress is reporting, Walsh tried his best at a town hall meeting.
Walsh attempted to go after Duckworth with a little story about Sen. John McCain.
"But understand something about John McCain. His political advisers, day after day, had to take him and almost throw him against a wall and hit him against the head and say, 'Senator, you have to let people know you served! You have to talk about what you did!' He didn't want to do it, wouldn't do it. Day after day they had to convince him. Finally, he talked a little bit about it, but it was very uncomfortable for him. That's what's so noble about our heroes.

Now I'm running against a woman who, I mean, my God. That's all she talks about. Our true heroes, it's the last thing in the world they talk about. That's why we're so indebted and in awe of what they've done."
RELATED: Video Captures Tea Party Congressman Joe Walsh Ranting, Raving, Screaming In Lady's Face
I suppose I should look to see if Duckworth has given a response but, God, she'll probably just start going on and on about that whole "losing both legs while protecting our nation" thing! That's all that lady will talk about! What a non-hero!
UPDATE: After Vote Vets, a non-partisan veterans PAC, condemned Rep. Walsh's statement and called for his resignation, the congressman doubled down with the following statement:
"Of course Tammy Duckworth is a hero. I have called her a hero 100's of times in the past four months. Just like every man and woman who has worn the uniform, her service demands — demands — our utmost respect. That's why I recognize our veterans at the beginning of every one of my public town halls. However, unlike most veterans I have had the honor to meet since my election to Congress, who rarely if ever talk about their service or the combat they've seen, that is darn near all of what Tammy Duckworth talks about. Her service demands our thanks and our respect but not our vote. She is running for Congress — and there are real problems in this country like our massive debt, high unemployment and the Obamacare tax. We are about four months from Election Day and the people of Illinois have no idea where Tammy Duckworth stands on these issues because she dodges debate requests, ignores our invitations to speak at town halls, refuses to talk about solutions and constantly reminds voters of her war service. Our thoughts and prayers will always be with her for her service and her loss but these are serious times and the people of Illinois deserve to know what she thinks about real issues and what she will do as a Congresswoman."
Watch the video from Think Progress below:
Have a tip we should know? tips@mediaite.com