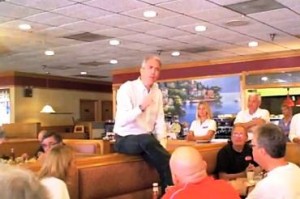 It's been quite a year for Georgetown University Law graduate Sandra Fluke, who fell into the spotlight after conservative commentator Rush Limbaugh called her a "slut" in February. The 31-year-old also spoke at the DNC this week, and Rep. Joe Walsh is not impressed. The Republican politician said during a Saturday campaign stop that Fluke needs to just "get a job" already.
"This one kills me, and then I'll be done with my rant," Walsh said to onlookers in Addison, Illinois. "So at the Democratic Convention Wednesday night their first prime time speaker was Sandra Fluke, whatever her name is. Think about this, a 31-32 year old law student who has been a student for life, who gets up there in front of a national audience and tells the American people, 'I want America to pay for my contraceptives.' You're kidding me. Go get a job. Go get a job, Sandra Fluke."
After a round of applause, Walsh continued, "I was offended. We've got Americans who are struggling…to buy sneakers that their kids can wear to school…We've got parents up and down my district who are barely keeping their house. And and and…we have to be confronted by a woman. The Democratic party, this is what they stand for. They're going to put a woman in front of us, who is complaining that the country, you me and you, won't pay the nine dollars a month for her contraceptives. How crazy is this? In a way it's not her fault because we teach people this stuff…'Don't worry, government will take care of you.' We are raising these Sandra Flukes of the world who are raising Americans who don't know how to take care of themselves. This a woman who feels entitled that we all should pay for her contraceptives," he said. "This is what we are teaching Americans? That was embarrassing. That was embarrassing."
Fluke came under fire in the winter when she pushed for low-cost birth control. The Pennsylvania native received her bachelor's degree from Cornell in 2003 and went on to co-found the New York Statewide Coalition for Fair Access to Family Court. Before pursuing studies at Georgetown, she worked at Sanctuary for Families in New York City to fight human trafficking and domestic violence.
Watch below:
Have a tip we should know? tips@mediaite.com