Rep. Pat Meehan Says He Never Sexually Harassed Aide… Just Told Her She Was His 'Soul Mate'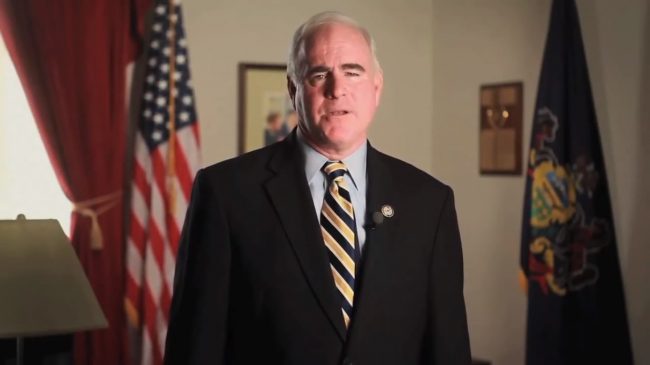 Last week, it was reported that Rep. Patrick Meehan (R-PA) had used taxpayer funds to pay a sexual harassment settlement brought forth by a former aide. Meehan, who was removed from the House Ethics Committee over the revelation, had been accused of making unwanted advances towards the much younger woman and growing hostile with her when she wouldn't reciprocate.
In an interview with The Philadelphia Inquirer, Meehan denied that he sexually harassed the ex-aide. But he seemingly confirmed most of the details of the New York Times report that came out on Saturday. For one, he acknowledged that he felt an "affection" for the woman and told her over ice cream that he saw her as his "soul mate."
Meehan also said that he had written a letter to the woman expressing his feelings for her and lashed out at her when he discovered she was dating another man. He blamed his anger over pressure he felt in his job as a congressman.
From the article:
He said he felt bad about lashing out in his office when told of the woman's relationship, attributing it to the tension-filled stretch around the House GOP votes to repeal the Affordable Care Act, when he faced intense pressure from both sides of the debate.

"Sometimes I have the tendency to lash out to others on the staff … and you go hardest on the ones that you care the most about," Meehan said in the interview.
While stating that he sent the woman a "heartfelt letter" and meeting with her for ice cream to tell her they were "soul mates," he insisted that he never desired a sexual or romantic relationship with her, claiming he told her he "was a happily married man."
I don't think it is going out on a limb to state that this interview didn't help Meehan make his case of non-harassment.
[image via screengrab]
—
Follow Justin Baragona on Twitter: @justinbaragona
Have a tip we should know? tips@mediaite.com