Rep. Steve King: Immigrants and Ebola Turning America into 'Third World Country'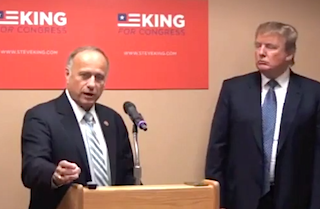 Polling is scant in the race to represent Iowa's 4th Congressional district, with incumbent Rep. Steve King (R-IA) leading Democratic challenger Jim Mowrer according to a survey taken in early September. But there was King out on the campaign trail with none other than Donald Trump this past weekend, making his unique case for why he deserves a seventh term.
"I'm here to support Steve King, a special guy, a smart person with really the right views on almost everything," Trump said in his introduction of the candidate Saturday, before turning the mic over the King.
What followed were some dire predictions about where the country is headed if the "rule of law" continues to be eroded, as he believes it has been under President Barack Obama. Specifically, he told Iowans they would "watch America become a Third World country."
King turned his focus to a favorite topic — securing the border — raising fears about drugs and gang members entering the country through Mexico, along with ISIS "that's been interdicted on our southern border," the "beheadings in Oklahoma," the "paralysis disease" that he suggested was brought into the U.S. by undocumented children and "the biggest threat of all, Ebola."
The congressman went on to call Obama "feckless" and "irresponsible," adding, "he must now think that he's president of the world, hat he's going to treat people in Africa as if they were American citizens and somehow we can't define this American sovereignty or American citizenship."
Watch video below:
[h/t RWW]
[Photo via screengrab]
— —
>> Follow Matt Wilstein (@TheMattWilstein) on Twitter
Have a tip we should know? tips@mediaite.com