Report: Computer Hackers Have Stolen And Leaked Fox Broadcasting Emails And Passwords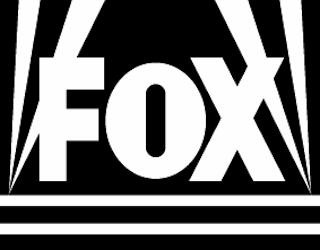 With the Sony Playstation Network hack being called by some the largest case of personal information theft ever, another high profile case is starting to seem even bigger than previously thought. Last week, news broke that hackers stole personal information of 250,000 potential contestants from Fox's upcoming American remake of The X-Factor. Now, it seems the group also stole more information as they've leaked a database of around 300 Fox Broadcasting employees and associates.
Gawker's Adrian Chen, who covers this kind of thing all the time leading me to believe he has to change his passwords around 18 times a day, has this report:
"The group Lulz Security has taken credit for the hack. Last night, Lulz Security took over and defaced the LinkedIn accounts of 16 Fox Broadcasting employees and the Twitter accounts of two Fox affiliates, apparently to prove the leak's validity. 'Fox News 15 has decided to rape its own face. A sad day for our 25 viewers,' read one tweet. They then tweeted a list of emails and passwords, which are mainly employees of Fox Broadcasting and local affiliates of Fox and other networks.

'We invite the Internet to ravage the following list of emails and passwords (from a database within Fox.com) – Facebook, MySpace, PayPal, whatever you can get your hands on,' the group wrote. 'Take from them everything.'"
The tweet Chen mentions is still up 13 hours after being posted.

Face raping and all, that tweet is fairly family friendly compared to this one: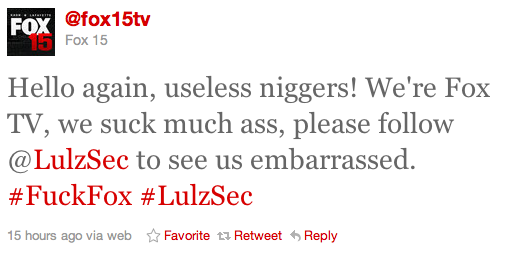 On the official Lulz Security Twitter feed, linked to in that tweet, the hackers brag about the leak, mock news organizations linking them to the group Anonymous, and egg on anyone using the information for nefarious deeds.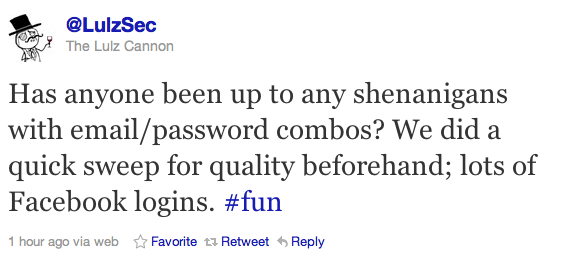 Gosh, with the Gawker hack, the Sony hack, and all the other hacks of the past few months, is there anyone out there whose personal information hasn't been stolen yet?
Have a tip we should know? tips@mediaite.com