Report: French Gov Suppressed Evidence of 'Gruesome Torture' During Paris Attacks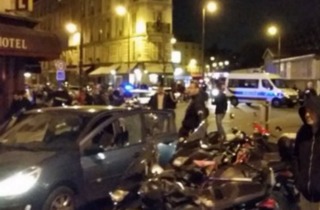 According to testimony before a French government committee, the perpetrators of the November Paris terrorist attacks engaged in "gruesome torture," a fact that government prosecutors went to great lengths to deny.
According to a translation provided by Heat Street, the victims in the Bataclan theater were found beheaded, with their eyes gouged out, castrated, and with their genitals shoved into their mouths. Some of the female victims were reportedly "sexually tortured" and found with multiple lacerations to their genitals. The scene was bad enough that officers on the scene had to leave to vomit.
The President of the Committee read off a letter he had received from one of the victim's father: "On the causes of the death of my son A., at the forensic institute in Paris, I was told, and what a shock it was for me at that moment, they had cut off his testicles, had put them in his mouth, and he was disemboweled." His son was so mutilated, the father wrote, that he could only identify him from the left side of his face.
But when prosecutors were questioned on the victims' injuries, they insisted that it was possible they were caused by gunfire and explosions. They point to the fact that no sharp knives were found on the scene, making mutilation and beheading difficult.
"Some of the bodies found at the Bataclan were extremely mutilated by the explosions and weapons, to the point that it was sometimes difficult to reconstruct the dismembered bodies. In other words, injuries described… may also have been caused by automatic weapons, by explosions or projections of nails and bolts that have resulted," a prosecutor argued.
"Would those have put a man's balls in in his own mouth?" asked one incredulous committee member.
"I do not have that information," the prosecutor responded.
[Image via screengrab]
——
>>Follow Alex Griswold (@HashtagGriswold) on Twitter
Have a tip we should know? tips@mediaite.com