Report: GOP Internal Call Advises Against Attacking Obama Due To His High Personal Approval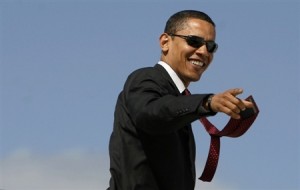 Yahoo News journalist Rachel Rose Hartman reported that the news organization listened in on a private conference call with the Republican National Committee that cautioned insiders from making "personal attacks against President Barack Obama", because it would be "too hazardous for the GOP."
"We're hesitant to jump on board with heavy attacks" Republican pollster Nicholas Thompson, said on during the private call. "There's a lot of people who feel sorry for him." Thompson found that despite low job approval ratings, voters still had high personal approval ratings of President Obama.
"(They) don't think he's an evil man who's out to change the United States", Thompson added, and advised Republicans to "exercise some caution" when "talking about the president personally."
On the call–which Yahoo News was invited to attend because of a mistake by someone on the staff of the Republican National Committee–Ari Fleischer, the former press secretary for George W. Bush, encouraged Republicans to turn around Democratic attacks lobbed at the GOP presidential candidates (Mitt Romney and Newt Gingrich, for starters) for "flip-flopping."

"I don't like playing defense," Fleischer said. He suggested the listeners to Tuesday's call label the president as a flip-flopper on the following issues: opposing tax increases for those making under $250,000, opposing the Bush tax cuts, opposing raising the debt limit, and opposing a health care mandate.
"When it comes to flip flopping, Barack Obama is the king of flip flopping," Fleischer said. "You can offer that to anybody," he suggested.
Have a tip we should know? tips@mediaite.com