Report: John Podesta Failed to Disclose Stocks From Russian-Financed Company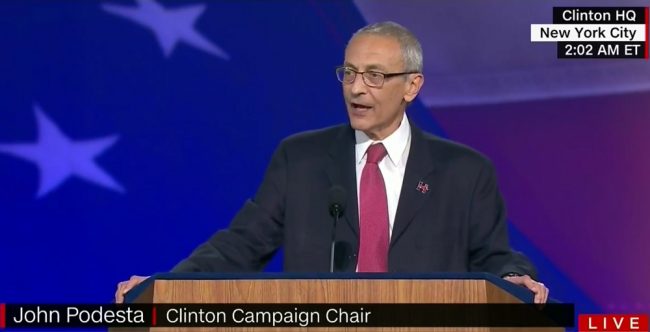 (Update, March 29, 2017, 9:10 pm Eastern: Podesta has vigorously denied the allegations in the Daily Caller report. See addendum below.)
On Sunday evening, The Daily Caller's investigative group revealed that Washington Post columnist, and former Hillary Clinton campaign chair, John Podesta failed to disclose to the federal government that he received 75,000 shares in a Russian-financed company the same month he took a job with the Obama administration.
According to Daily Caller, "the Schedule B section of the federal government's form 278 which — requires financial disclosures for government officials — required Podesta to 'report any purchase, sale or exchange by you, your spouse, or dependent children…of any property, stocks, bonds, commodity futures and other securities when the amount of the transaction exceeded $1,000.'"
The conservative website pointed out that "Podesta's form 278 Schedule B is blank regarding his receipt of any stock from any company." Their report later outlined the "federal penalties for failing to report assets."
Podesta became a member of the board of directors at the energy company Joule in early 2011, according to a press release. He left Joule in January 2014, when President Barack Obama named him a special counselor.
Mere months after Podesta joined Joule's board, the American division of a "Putin-backed" Russian state enterprise invested $35 million in the company, according to an October 2016 report from McClatchy's Washington, D.C. bureau.
The McClatchy report cited a Clinton campaign spokesman, who claimed that "when Podesta went back to the work at the White House, he worked with White House counsel to personally divest from Joule and ensure he was in full compliance with all government ethics rules."
However, according to the new Daily Caller report, which cites e-mails leaked by WikiLeaks, Podesta transferred "25,146 shares of series C stock and 8,547shares of Series C-II" to a holding company in January 2014, the same month he left Joule and started working for the Obama administration. "But there is no indication the remaining 41,000 shares went to any other party."
(Update, March 29, 2017, 9:10 pm Eastern: On Wednesday, a lawyer for Podesta sent a cease and desist letter to Daily Caller "demanding the Daily Caller correct the lies about @johnpodesta's financial disclosure."
[image via screengrab]
Have a tip we should know? tips@mediaite.com