Report: Katie Couric Leaving Anchor Chair According To Anonymous CBS Executive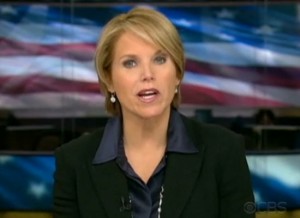 The Associated Press is reporting that an unnamed source identified as a network executive has confirmed that Katie Couric will be leaving the anchor chair at CBS Evening News. This comes as unexpected news to dozens of individuals who have not paid close attention to the many recent public and private comments concerning Couric's future at CBS News that have given every indication that she is preparing to move on.
The AP article opens:
Katie Couric is leaving her anchor post at "CBS Evening News" less than five years after becoming the first woman to solely helm a network TV evening newscast.

A network executive, who spoke on condition of anonymity because Couric has not officially announced her plans, reported the move to The Associated Press on Sunday night. The 54-year-old anchor is expected to launch a syndicated talk show in 2012 and several companies are vying for her services.

Couric's move from NBC's "Today" show was big news in 2006, and she began in the anchor chair with a flourish that September. She tried to incorporate her strengths as an interviewer into a standard evening news format and millions of people who normally didn't watch the news at night checked it out. But they drifted away and the evening newscast reverted to a more traditional broadcast.
Read the entire article here.
Couric's future as the Evening News anchor has appeared to be coming to an end based on a number of thinly veiled statements and positions taken both by the network and Couric that have appeared to indicate to many that both parties have amicably agreed that it is time to part ways. Perhaps most notably, a somewhat sentimental Couric appeared on the program of fellow CBS cohort David Letterman and appeared somewhat sentimental in describing her next move to a sincere Letterman who implored her to stay on (a video of which is embedded below.)
Have a tip we should know? tips@mediaite.com