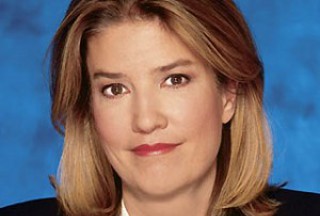 When former Democratic National Committee chair/former Democratic presidential hopeful/yeller Howard Dean recently criticized Fox News as nothing more than "a very expensive, incredibly well-funded, right-wing propaganda organization," it was only a matter of time before someone at the network responded. Today, On the Record anchor Greta Van Susteren did.
Writing for her Fox News blog, Van Susteren asked, "What's Up With Howard Dean?" and wondered why he seems to be devoting so much thought to her network:
It is sort of weird….but it seems that Howard Dean can't get Fox News Channel out of his mind. Every time I see him quoted (or maybe not every time), he is taking a swipe at Fox. First, he needs to understand Fox is not why he lost Iowa in 2004. Even the "Dean scream" is not why ( the scream occurred AFTER he lost… and came in 3rd.) Second, his constant swipes makes him look like he is afraid of Fox – he makes his cracks but has turned down all our (ON THE RECORD AT 10pm) requests that he be a guest. Third, while he is highly critical of Fox he has not explained his recent remark that a government shutdown would be good for the Democrats (seemingly wanting a shutdown for political reasons at the expense of what is good for the country.)

I am actually curious what ideas he has for the country. We need ideas….he might want to focus on ideas instead of old grudges.
It remains to be seen if Dean will have a response to this statement, though that could be risky since doing so might just give critics more reason to say he's obsessed with Fox News. Maybe, though, it will move him to finally acquiesce to an interview request from On the Record. We're not holding our breath, but we'd love to be wrong…and man, he will seriously never live down the Dean Scream, will he?*
*No thanks to us linking it in this post…but really, would any Howard Dean news update feel complete without it?
Have a tip we should know? tips@mediaite.com