REPORT: President-Elect Trump Breaking From Tradition by Utilizing Private Security Force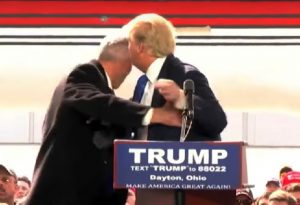 There has already been a lot about President-elect Donald Trump that has been nontraditional and unprecedented. So, it probably shouldn't come as much of a surprise that the way he is handling his security also strays from the norms of recent presidents and president-elects.
Breaking from the tradition of modern transitions, Trump has continued to supplement the Secret Service protection afforded him as president-elect with a private security force led by 58-year-old Keith Schiller, a former NYPD police officer who first began working for Trump in 1999, according to Politico.
During the campaign and after the election, Schiller became something of a recognizable figure. Trump has called upon Schiller to remove protesters or others from his rallies and events. It was Schiller who forced Jorge Ramos from a press conference last year when Ramos tried to ask the then-candidate about his immigration policy.
Keith Schiller, named as Trump's head of security in POLITICO, is who kicked Jorge Ramos out of a presser last yr: https://t.co/Ej9r3xIBsz

— Gabe Ortíz (@TUSK81) December 19, 2016
There's also footage of Schiller hitting a protester outside of Trump Tower.
Keith Schiller, Trump's head of security, also punched Latino protester outside Trump Tower after taking his signs: https://t.co/drpBjkTpVJ

— Gabe Ortíz (@TUSK81) December 19, 2016
Regarding the issues that come with integrating private security with the Secret Service, one former Secret Service agent said it was "playing with fire" and that it "increases the Service's liability." "You never want to comingle a police function with a private security function," ex-agent Jonathon Wackrow said.
No one can recall another example of president-elects continuing to utilize private security after winning the election.
Several past presidential nominees have used private security or, in the case of governors running for president, state police details. But the experts could not think of another example of a president-elect continuing with any private security after Election Day, when Secret Service protection expands dramatically for the winner. In fact, most candidates drop any outside security the moment they're granted Secret Service protection.

Trump's spending on private security, on the other hand, actually increased after he was granted Secret Service protection in November 2015.
Beyond the unprecedented nature of the mixture of private security and Secret Service, another concern seems to be that Schiller and the others don't have the ability to react like the Secret Service. Regarding the situation in March when a man jumped a barricade at a Dayton rally to get to Trump, Schiller came in a second after two Secret Service agents.
The response appeared tightly choreographed to the untrained eye — a phalanx of men in dark suits and close cropped hair swarming to protect their charge.

But in law enforcement circles, Schiller's reaction was panned as too slow, and was the subject of disapproving conversation among agents, according to a law enforcement source briefed on the conversations. The source said one agent described Schiller as the "JV trying to keep up in a varsity game."
A number of protesters have joined three lawsuits against Trump's security over racial profiling and undue force.
Meanwhile, Trump spokesman Jason Miller responded to Politico's story, saying that it was false.
.@JasonMillerinDC responds to this @politico story, calls it "complete nonsense": https://t.co/ABStmcBYjq pic.twitter.com/9FJGss7aLE

— Sopan Deb (@SopanDeb) December 19, 2016
[image via screengrab]
–
Follow Justin Baragona on Twitter: @justinbaragona
Have a tip we should know? tips@mediaite.com