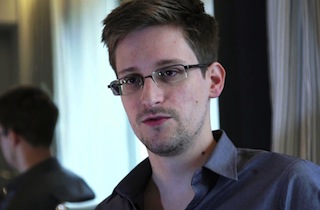 In a new documentary, filmmaker Laura Poitras, who helped break the story of the NSA surveillance leaks, revealed a surprising factoid: Edward Snowden's ballerina girlfriend moved to Moscow to be with him.
In one of the more human drama-y twists of the Snowden affair, the former contractor's girlfriend, dancer Lindsay Mills, had been left completely in the dark about Snowden's plans to leak critical information about a mass surveillance program run by the government. Instead, he told her that he was going to Hong Kong for a business trip, leaving her to find out about his plans the moment they went public.
While Mills's father claimed that his daughter had been left to fend for herself, Poitras's documentary, CITIZENFOUR, revealed that Mills had moved to Moscow in July of this year to be with him.
So why is this sappy bit of truest love a big deal? As Glenn Greenwald writes in the Intercept, it counters the narrative of Snowden's life being an alcoholic, miserable, isolated hell due to his actions:
But the fact that he is now living in domestic bliss as well, with his long-term girlfriend whom he loves, should forever put to rest the absurd campaign to depict his life as grim and dank. Snowden not only changed how the world thinks about a number of profoundly important political issues by defying its most powerful government, but then was able to build a happy, healthy and fulfilling life for himself. And if he can do that, so can other whistleblowers, which is precisely why so much effort has been devoted to depicting him in all sorts of false lights.
(And now everyone can stop talking about Edward Snowden possibly shacking up with one of many hot Russian ladies.)
[The Intercept]
[Image via screenshot/The Guardian]
—
>> Follow Tina Nguyen (@Tina_Nguyen) on Twitter
Have a tip we should know? tips@mediaite.com