Report: Tamerlan Tsarnaev 'Took An Interest' In Alex Jones' 'Conspiracy Theory Website' Infowars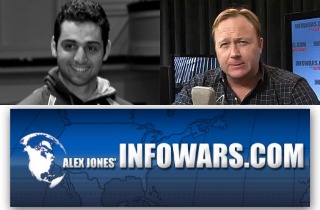 Investigators are beginning to uncover the many influences that led the Tsarnaev brothers to commit their deadly spree last week which included bombing the Boston Marathon and shooting a police officer. Deep within an Associated Press story on the many influences that moved the elder and more ideological brother, Tamerlan Tsarnaev, to commit last week's atrocities was this choice detail: "Tamerlan took an interest in Infowars, a conspiracy theory website."

RELATED: Boston Bombing Suspect Killed By Police Posted Al Qaeda End Times Prophecy Video To YouTube
On Tuesday, reports indicated that Tamerlan Tsarnaev was moved by the performances of the radical anti-American Al Qaeda propagandist Anwar al-Awlaki.
Al-Awlaki reportedly also influenced Maj. Nidal Hasan who, in 2009, attacked his fellow servicemen and women at Ft. Hood, killing 13 and wounding over 30.
Tarnaev's YouTube page indicated that he had an interest in Islamic apocalypse prophecy and had subscribed to the YouTube channel of a British youth who attempted to assassinate British MP Steven Timms in 2010 in retaliation for his support of the Iraq War.
AP reports that Tamerlan Tsarnaev also possessed a copy of "The Protocols of the Learned Elders of Zion," an anti-Semitic book which purports to detail a Jewish conspiracy to dominate the globe.
But AP also reports that the conspiracy theory website controlled by radio host Alex Jones, Infowars, was also of interest to Tsarnaev.
On Tuesday, Infowars ran a story claiming that Tsarnaev's indoctrination into radical Islamic jihadist theory is a myth designed to "reinvigorate" the war on terror. The post chides the media for their credulous repeating of the story and claims this fabrication is a design intended to further the United States' "global war against Islam."
UPDATE: BuzzFeed's Rosie Gray spoke with Jones on Tuesday who clarified that his radio show and his website are "anti-terror."
Jones said that he has spoken with the Tsarnaev family and they think that the allegations against their sons are falsified by the U.S. government.
"They're scared to death," he said. "That whole family is genuinely shocked."
"They think it's a setup," Jones said, adding that "the State Department openly funds radical Islam in Dagestan."
> >Follow Noah Rothman (@NoahCRothman) on Twitter
Have a tip we should know? tips@mediaite.com