Wine-Gate? White House Refuses To Release Names Of Pricey State Dinner Wines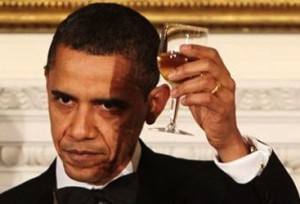 British Prime Minister David Cameron is visiting the United States this week, and during his visit he'll be attending a White House state dinner hosted by President Obama. But one interesting tidbit about the dinner is that since last June, the White House has stopped releasing the wine lists for state dinners. One theory is that they don't want to publicize extravagancy in the middle of a recession. What happened to transparency, fancy White House wine-drinkers?
REPORT: President Obama Celebrates "El Sabor De Mexico" In State Dinner Toast
Bloomberg has a fascinating account of how the White House stopped making the prices of wine bottles public following a state dinner in January 2011 with Chinese President Hu Jintao, when one of the wines served ended up costing almost $400 by the time of the dinner. At a dinner several months later for German Chancellor Angela Merkel, the wine list was not made public. Instead, on the menu publicly released by the White House, a note just read, "An American wine will be paired with with each course."
So why exactly did the White House start doing this?
Tyler Colman, who writes the Dr. Vino wine blog and teaches at New York University, said in an interview that the shift in menu protocol may reflect political considerations given the sluggish U.S. economy.

"They're probably sensitive to displays of wealth at a time when the economy is not firing on all cylinders," said Colman, whose blog had noted the absence of wines on the German state dinner menu the White House released.
He did note, though, that this a state dinner, not a "casual get-together," and diplomatically speaking, there's nothing wrong with the White House spending quite a bit of money on wines for foreign heads of state. However, some argue that the lists should be released to promote the American wine industry. Rick Small, whose 2009 Chardonnay was served at the Merkel dinner, said that publicizing the wines "by name" is ultimately good for the industry.
RELATED: Glenn Beck And Bill O'Reilly Have No Idea What Most Of The State Dinner Menu Items Are
The White House had no comment for the Bloomberg piece, and deputy press secretary Josh Earnest did not say whether the names of the wines at the Cameron dinner would be released. To be fair, the wine list at a dinner last month hosted by Vice President Joe Biden for Chinese Vice President Xi Jinping was released. Though quite frankly, this whole affair smells of elitism. Or maybe that's just the Chardonnay.
h/t Bloomberg
Have a tip we should know? [email protected]
Josh Feldman - Senior Editor