Shooting Reported At Elementary School In Newtown, Connecticut (UPDATED)
Shooting Reported At Elementary School In Newtown, Connecticut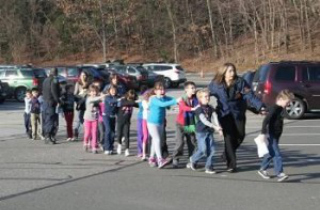 Connecticut State Police are investigating reports of a shooting at a Newtown elementary school.
Sandy Hook Elementary School has been locked down to protect students, according to the school's superintendent. This image of children being led away from the scene courtesy of The Newton Bee.
ABC News quotes State police spokesman Lt. Paul Vance who says the have multiple officers on the scene assisting.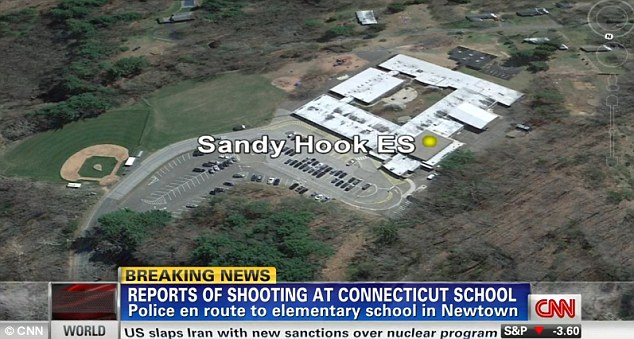 UPDATE: The Daily Mail has more details:
There are unconfirmed reports of two shooters, one is believed to be dead and the other still at large.
State and local police have entered the school and evacuations are underway.

The Hartford Courant tweeted there are 'groups of students, some crying being escorted away from the school'.

There were also reports of frantic parents rushing to the school though officials are telling them to stay at home by the phone.
UPDATE II: According to NBC News, Three patients were taken to the nearby Danbury hospital. It is unclear at this time whether those patients were students or teachers.
UPDATE III: WNBC reports that one shooter, an adult, has been killed.
UPDATE IV: The Hartford Courant confirms that children are among the victims of the shooting incident in Newtown. "Multiple people have been killed in a shooting at Sandy Hook Elementary School on Dickinson Drive," reads The Courant's report.
UPDATE: Newtown schools have lifted the lock down on all area schools, according to an email sent out to parents. CNN reports the gunman and two adults were killed during the attack. ABC News, however, reports that several children are among the 12+ killed in the attack. The victim's identities have not yet been released.
UPDATE: KCBS reports that 27 people were killed in this attack, including more than a dozen children.
UPDATE: NBC News reports that a suspect believed to be the second shooter has been taken into custody.
> >Follow Noah Rothman (@Noah_C_Rothman) on Twitter
Have a tip we should know? tips@mediaite.com