Republicans Blast Clinton For Laughing Off Supporter's Desire to 'Strangle' Fiorina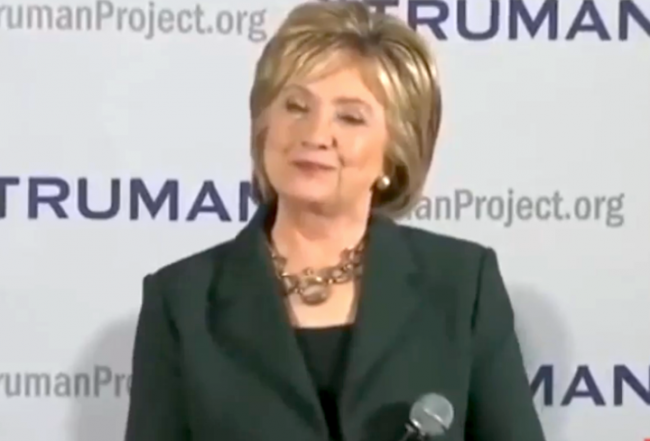 Republicans condemned Hillary Clinton's remarks Tuesday after the Democratic presidential candidate laughed off a comment by a supporter who said he wanted to "strangle" GOP rival Carly Fiorina.
In a statement, RNC Press Secretary Allison Moore said, "By laughing off a male questioner's desire to strangle Carly Fiorina, Hillary Clinton and the Democrats have lost all credibility claiming to be a party that stands up for women," adding that joking about violence against women is "always in poor taste and should be condemned every time."
At a presser, Clinton declined to answer whether she took the comment seriously. Clinton's Press Secretary Nick Merrill told the pool of reporters,"You were there. What was your take? It was a joke."
Conservative host Sean Hannity said this was an example of the "double standard in the way conservative women are treated versus liberals like Hillary Clinton."
"Imagine the same thing had been said about Hillary Clinton during a Republican event, and the candidate failed to admonish the speaker," Hannity said. "We'd be hearing about misogyny and violence against women from every major news outlet for the next decade."
Sarah Isgur Flores, Deputy Campaign Manager for Carly Fiorina, also criticized the Democratic candidate, inviting her followers to "watch @HillaryClinton's media lapdogs explain why this is okay in 3, 2, 1….#whatbias."
Let's all watch @HillaryClinton's media lapdogs explain why this is ok in 3, 2, 1….#whatbias

— Sarah Isgur Flores (@whignewtons) November 10, 2015
Fiorina came under fire last week after failing to correct a someone who called President Barack Obama a "black muslim." This comes nearly two months after GOP frontrunner Donald Trump made headlines for refusing to correct an audience member who identified Obama as a Muslim as well.
Fiorina defended her inaction by telling Fox News, "I said on many occasions that President Obama tells me he's a Christian, I take him at his word. But the truth is President Obama isn't on the ballot, the person on the ballot is Hillary Clinton."
[h/t Politico]
[Image via screengrab]
—
>> Follow Elizabeth Preza on Twitter (@lizacisms)
Have a tip we should know? tips@mediaite.com