O'Reilly Responds to George Will, 'Reagan Cabal': 'Misguided and Disingenuous' Attacks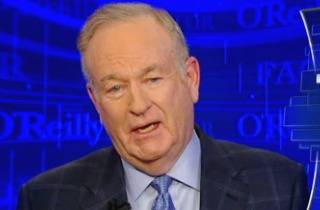 Bill O'Reilly and his Killing Reagan co-author Martin Dugard posted a lengthy response on O'Reilly's website today to George Will's two columns calling out their book for some factual errors.
Last week Will wrote a column calling the book a "no-facts zone" that wasn't researched thoroughly enough, and after his showdown with O'Reilly, Will followed up again today by saying his "vast carelessness pollutes history."
Well, in their column today, O'Reilly and Dugard declare, "We believe the hostile criticism is both misguided and disingenuous and is motivated by a small group of Reagan loyalists who are vehemently opposed to any objective look at the 40th President."
They believe the "Reagan cabal" is angry because the book is not a complete "deification" of Ronald Reagan. Both men again bring up the Reagan White House meeting at the crux of the feud between them and Will, insisting that there was "intense concern about the president's mental state":
That is a fact, and it is disturbing that Reagan loyalists have attacked us for pointing it out…

The irony is that President Reagan overcame the severe wounds he suffered on March 30, 1981, when John Hinckley tried to assassinate him. He did this by sheer will. Killing Reagan chronicles the president's struggle and demonstrates his tremendous courage in bringing his second term to a successful close. The true story of Ronald Reagan is an amazing exposition that pinpoints the essence of a great man. It is a damn shame that some refuse to accept the compelling truth.
Last night O'Reilly stood defiant against Will, though he's not the only major conservative figure who has a bone to pick with the Fox host. Radio host Mark Levin really tore into O'Reilly yesterday for "peddling a smear" on Reagan.
[image via screengrab]
— —
Follow Josh Feldman on Twitter: @feldmaniac
Have a tip we should know? tips@mediaite.com
Josh Feldman - Senior Editor