FBN Moderator Cavuto: GOPers 'Better Be Careful About Looking Like Whiners and Babies'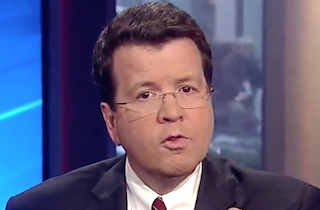 Neil Cavuto, one of the moderators of tonight's primetime Fox Business Network debate, warned candidates about looking like "whiners and babies" when getting tough questions.
Given how an FBN ad about their debate took shots at CNBC's, it's a safe bet this one will go in a different direction. But that doesn't mean Cavuto and Maria Bartiromo won't ask tough questions.
In an interview with The Washington Post, both of them opened up about the almost certain possibility that at least one candidate will try to pick a fight with them. They admitted it's a nerve-wracking process, but they're both confident in the preparation they've done.
Cavuto reiterated his plan to stay invisible while Bartiromo said, "I think you have to challenge. You have to know your content cold, so that you can say, 'Well, that's not true.'"
When asked about the suggestion that conservatives should be the ones moderating the debates, here's what they said:
BARTIROMO: Not at all. I'm an independent. I've voted both ways in my life. I come at this from the standpoint of, "Here are the issues; what are you planning to do about it?"

CAVUTO: No. I understand candidates getting annoyed, but they better be careful about looking like whiners and babies. I see this on the right and the left. I think you can ask very tough questions without coming off like an ass. I think it's incumbent on us to know and appreciate the difference.
The undercard debate starts at 7 pm, and the big primetime debate kicks off at 9 pm, both on Fox Business Network.
[image via screengrab]
— —
Follow Josh Feldman on Twitter: @feldmaniac
Have a tip we should know? tips@mediaite.com
Josh Feldman - Senior Editor