Restaurant Owner Holds "Bacon Bikini" Contest For Charity (Which Doesn't Exist)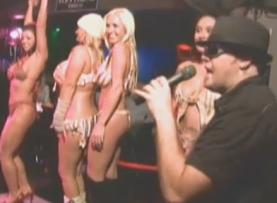 The consumer advocacy site The Consumerist always has all sorts of stories about ridiculous frauds and double dealings and the like, but today they found a story that has absolutely everything: deceit, family drama, backstabbing, and, most importantly, girls dancing around in bikinis made out of bacon. Basically, if Shakespeare was still alive, he would totally be writing a play about the man who held a "bacon bikini" contest for a bogus charity and was then brought down by a nosy reporter and his own daughter.
The sad story actually begins before the a single strip of pork was transformed into clothing. Kurtis Ming of Sacramento's CBS 13 had been investigating local restaurant owner Steve Lightfoot for holding a memorial service for a teenage employee killed in a car accident and then dodging the victim's family for three months instead of giving them the money. Finally, after pressure from Ming's camera crews, Lightfoot handed the money over. However, while Ming was investigating this, he began hearing of other bad dealings from Lightfoot. One of his sources: the man's own daughter.
Lightfoot had held a "bacon bikini" contest (exactly what it sounds like) to raise money for a charity in his daughter's name. The daughter, Jordan Lightfoot, was said to have diabetes. The diabetes was real. The money was real. The bacon was certainly real. But the charity was not.
From CBS 13:
"Jordan was called up on stage to talk about the charity. 'I've been diabetic for almost 14-years,' she told the crowd. 'I want to be able to help kids go through what I went through.'
And while she does have diabetes, she says she was shocked to learn the charity her dad says he set up in her name isn't real.
I asked her, 'Do you think he was using this fake charity to raise money for himself?'
'I hope that's not what his intentions were, but it seems it has been,' she said.
'What do you think of that?' I asked.
'It disgusts me. It's not right.'"
Since the reports have come out, Lightfoot has been swiftly fired from his job and his restaurant is gone from the location.
Seriously, someone needs to turn this into a movie. This is perfect for one of those tragedies about the desperate things people do for money and how they unravel.
Have a tip we should know? tips@mediaite.com