Reuters' David Cay Johnston: The Premise Of My Debut Column On News Corp's Taxes Was '100 Percent Dead Wrong'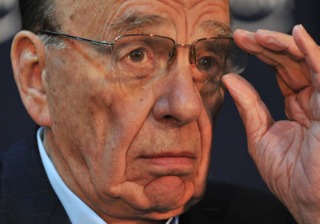 David Cay Johnston has had a rough week. In his inaugural column for Reuters, Johnston — an investigative journalist with an expertise in economics and taxes — incorrectly wrote that Rupert Murdoch's News Corp. received a $4.8 billion tax refund for the past four years. We ran with Johnston's original story but, in light of his mistake, have issued an update noting the Reuters report was eventually withdrawn. Once aware of his mistake, Johnston immediately set out to make things right by apologizing and explaining his error:
Readers, I apologize. The premise of my debut column for Reuters, on News Corp's taxes, was wrong, 100 percent dead wrong.

Rupert Murdoch's News Corp did not get a $4.8 billion tax refund for the past four years, as I reported. Instead, it paid that much in cash for corporate income taxes for the years 2007 through 2010 while earning pre-tax profits of $10.4 billion.

For the first time in my 45-year-old career I am writing a skinback. That is what journalists call a retraction of the premise of a piece, as in peeling back your skin and feeling the pain. I will do all I can to make sure everyone who has read or heard secondary reports based on my column also learns the facts and would appreciate the help of readers in that cause.
Johnston explained that he, riding on the wave of the NOTW scandal coverage, decided to take a look at parent company News Corp.'s annual disclosure reports dating back to 2004, the year it became an American company. There, he found four years of "big negative numbers" on the forms' "cash paid for taxes" lines, noting that taxes are usually reported as positive numbers and negative numbers are used to indicate refunds from the government. However, some companies — like News Corp. — report their "cash paid for taxes" with payments in parentheses and refunds as a positive number.
He goes into further detail into what happened in his apologetic post, concluding that he made "a whopper of a mistake." Fortunately, he remedied this mistake promptly and in a way that allowed readers to understand why it happened.
h/t Reuters
Have a tip we should know? tips@mediaite.com