Reza Aslan, Daily Show's Minhaj Write Open Letter to U.S. Muslims on Embracing Gay Rights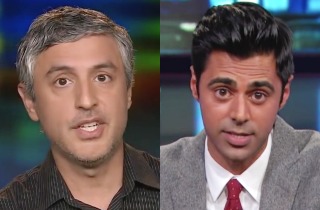 Religious scholar Reza Aslan has teamed up with a Daily Show correspondent and no, it's not for a comedy skit.
Aslan and Hasan Minhaj co-wrote an open letter to their American Muslim brothers and sisters on gay rights, because while most of the focus on the Supreme Court's gay marriage ruling backlash was on conservative politicians, there's been a some resistance and online grumbling from the Muslim community as well.
They acknowledge that American Muslims want to stay true to their traditions, and while they might begrudgingly accept that gays have rights, they "still feel like the LGBT community is a living contradiction to what you were brought up to believe."
But, Aslan and Minhaj argue, if Muslims are going to continue to be concerned about their rights as an "underrepresented minority," they need to be able to fight for the rights of all minority groups. "You can't pick and choose," they write, "which civil liberties apply to which people. Either we are all equal, or the whole thing is just a sham."
They continue:
We shouldn't be perpetuating our marginalization by marginalizing others. Rejecting the right to same-sex marriage, but then expecting empathy for our community's struggle, is hypocritical.

Think about the way people look at your hijabi sister or your bearded brother when they walk through the mall. Think about the grumbles and stares you get at airports. Think about the vitriol that's spewed on you by your own elected political leaders. That's how your LGBT brothers and sisters feel every day of their lives. Are you okay with that?
And they conclude that it's not just enough to simply "tolerate" the Supreme Court's decision on gay marriage, they need to be able to embrace it and stand alongside their gay brethren because it's "not just the right thing to do, it's the Muslim thing to do."
You can read their full open letter here.
[image via screengrab]
— —
Follow Josh Feldman on Twitter: @feldmaniac
Have a tip we should know? tips@mediaite.com
Josh Feldman - Senior Editor