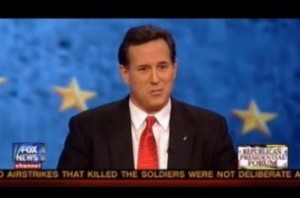 Donald Trump's much-hyped Dec. 27 GOP debate looks like it will feature just Newt Gingrich and Rick Santorum, as the five other major candidates have all declined invitations, and it's not entirely certain if Trump invited Gary Johnson (Buddy Roemer, to his credit, has actually asked Trump to be in the debate). This set of circumstances probably shouldn't bother Santorum too much — if the debate goes on as scheduled, it will likely be a windfall of publicity for him, as he'll share the stage, and ensuing face time, with just one other candidate.
But Santorum issued a statement Thursday night hammering the candidates who have turned down the invitation to the debate, saying they used Trump when they wanted his endorsement, but have decided to distance themselves when he wants to ask them questions in a public forum:
"Many of my opponents jockeyed to be the first to fly up to New York and use Donald Trump for a photo op and no doubt try and secure an endorsement. But when Donald wants to moderate a debate – they refuse to attend. That's what's so wrong with politics today – hypocrisy,"
Kaboom! Michele Bachmann, in particular, should feel the heat from this one, as she's met with Trump on four occasions, and reportedly turned down Trump's debate invite earlier on Thursday.
Santorum, according to Real Clear Politics averages, is currently polling at 3.5% (ahead of Jon Huntsman and his 2.3%). There's no telling if the increased face time in a two-person debate might give his campaign a boost, but the fact that he's shown a little edge and called out most of his competitors for being hypocrites might at least make enough noise for him to get a closer look in the next few days.
Have a tip we should know? tips@mediaite.com