RNC Chair Diagnoses GOP's Problem: Not Platform, But 'Biologically Stupid Things That People Say'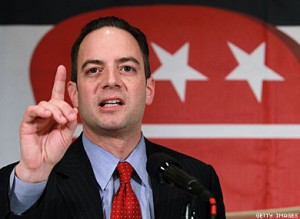 RNC chair Reince Priebus is on his "listening tour," visiting Republicans and getting insight into steering the GOP in the right direction. In an interview with Radio Iowa, Priebus discussed his perspective on the party's problems as well as Karl Rove's newfound approach to support candidates who stand better chances of winning in general elections.
"Listen, I don't think our platform is the issue," Priebus said. "I think a lot of times it's some of these biologically stupid things that people say, you know, that I believe caused a lot of the problems."
Specifically, he pointed to Todd Akin's controversial rape remarks — and went on to remark on Iowa Rep. Steve King. While Rove has said he'll oppose King's potential Senate bid, due to his support for Akin, Priebus found that to be the wrong approach:
"Obviously there's a lot of groups out there that are picking winners and losers in primaries, right? It's been for happening a long time," Priebus said. "…Personally, as an RNC (chair), I don't believe in that. I don't believe the party should pick winners and losers in primaries and I think it's, historically, if you look at it, it's a bit of a fool's game because you can't actually predict some of the things that go on."
While the GOP doesn't like "politics as a vocation," Priebus further said, the party has to get used to the era of "permanent politics" to remain competitive.
(h/t Radio Iowa)
Have a tip we should know? tips@mediaite.com