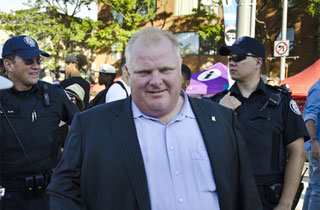 Embattled Toronto mayor Rob Ford is ending his re-election campaign after he was diagnosed earlier this week with an abdominal tumor, Sky News is reporting.
Ford was admitted to a hospital on September 10th complaining about long-term stomach pain. The AP reported yesterday that the biopsy results of the tumor could take up to a week.
The controversial mayor, publicly known for his alcohol problems and his crack cocaine habits, recently came off a stint in rehab. Despite revelations in 2013 that he'd smoked crack and associated with known drug dealers, Ford refused to step down from his position and announced his candidacy for re-election earlier this year, declaring he was the best Mayor in the history of Toronto.
UPDATE (2:52 PM EST): The Vancouver Sun has Ford's statement, as well as his request for his brother Doug to run in his stead:
In a statement, Mayor Ford said he was removing himself from the mayoral race to "focus on getting better" after receiving a tumour diagnosis earlier this week.

"My heart is heavy when I tell you that I'm unable to continue my campaign for re-election as your Mayor," he said in the statement.

"I've asked Doug to finish what we started together, so that all we've accomplished isn't washed away. I have asked Doug to run to become the next Mayor of Toronto, because we need him. We cannot go backwards."
[h/t Sky News]
[Image via rmnoa357 / Shutterstock.com]
—
>> Follow Tina Nguyen (@Tina_Nguyen) on Twitter
Have a tip we should know? tips@mediaite.com