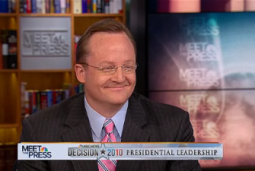 Back in July Press Sec. Robert Gibbs got a lot of Democrats riled up, including Nancy Pelosi, when he told David Gregory that "there's no doubt there are enough seats in play that could cause Republicans to gain control." Cue media and DNC maelstrom of accusations that Gibbs was undermining Pelosi's efforts to fund raise.
Today Gibbs, wearing a very similar tie, got another chance to clarify. I might describe this more as politispeak than clarifying, but here's what Gibbs had to say.
MR. GIBBS: Well, again, I–it's a–there's no question it is a tough and challenging political environment. We're the beneficiary of a lot of political real estate after 2006 and 2008 that haven't been held by Democrats for a long period of time. But look, I, I think that campaigns in this cycle are being run on a lot of local issues and issues that are important, not nationally, but to individual states and independent, independent–individual congressional districts. I think our candidates have done a remarkably good job in a tough political environment, and I think that, come election night, we'll retain control of both the House and the Senate.

MR. GREGORY: You believe that?

MR. GIBBS: I do believe that.

MR. GREGORY: What's different now as opposed to then?

MR. GIBBS: Well, again, I think right now you see an electorate by Democrats that is actually more engaged. You mentioned the president out on the trail. He's joined today by a very popular first lady in a–in an important state like Ohio. Twenty-thousand people signed up on Deval Patrick's Web site for the event that we had yesterday, 26,000 people in Wisconsin. There's an excitement about what this president is trying to do, there's an energy around it. And we're seeing that in shrinking generic congressional ballots, and we're seeing that in a shrinking enthusiasm gap.
Watch below.
Have a tip we should know? tips@mediaite.com