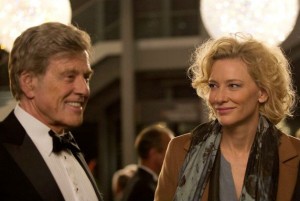 Actor Robert Redford has found himself in yet another political gaffe, this time about Republican presidential candidate Carly Fiorina.
During an interview with Uproxx for his Dan Rather/CBS drama Truth, Redford and co-star Cate Blanchett went from discussing the famous fake story from the George W. Bush–John Kerry 2004 election, which their film dramatizes, to the current political theater. The interviewer suggested that Rather's story about Bush "sugarcoating" his service in the National Guard wouldn't make as much of a splash in today's news cycle. Redford wholeheartedly disagreed.
"Jeb Bush's 'stuff happens' quote after a mass tragedy, Trump says whatever he wants, it doesn't seem to matter what anyone says or does now," said writer Mike Ryan.
"Bush is getting nailed on that," Redford responded, before adding:
"What I think is interesting, what's beginning to happen: Out of the box, Trump, Trump, Trump. And out of the box, Bush is going to be the top guy. Now, Bush is going down and somebody is coming up. There's Carly Fiorina, who is really a horror."
Wait, what? She's a "horror"? Please, do explain your point Mr. Redford:
"I was trying to get support for Sundance from HP. And she came, so I had some dealings with her at that time and drew an impression, but she's become even more extreme in the last few years. And now it's getting revealed. There's an article today that really takes apart what she's saying and what's she's doing and what she claims, and it's undoing all of it. And so I think you're beginning to see the unraveling."
Redford never explained why his "dealings" with Fiorina revealed her more horrific character. Nor did he mention the article in question, but it was probably the Washington Post piece that sparked a fact-checking war with Fiorina and the media at large.
This isn't the first time Redford's words have inadvertently sparked a reaction in the 2016 election cycle. In September, the Donald Trump campaign cherry-picked Redford's comments on the New York real estate mogul in order to make it look like an endorsement.
[h/t Uproxx]
[Image via screengrab]
— —
>> Follow Andrew Husband (@AndrewHusband) on Twitter
Have a tip we should know? tips@mediaite.com