Rocky De La Fuente Is a Democratic Presidential Candidate With a Killer Phone Game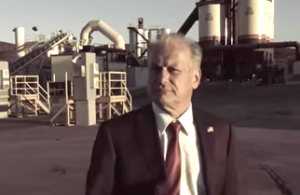 When it comes to presidential candidates, there are well-known frontrunners and major competitors like Hillary Clinton, Donald Trump, Bernie Sanders, and Ted Cruz. There is even John Kasich. There are also outliers that bring joy, like Deez Nuts. Sometimes, though, we don't even know someone was running until they drop out, like Jim Gilmore.
Rocky De La Fuente is none of those. He is an under-the-radar candidate who is still running on the Democratic side. He stands for intersectionality and the idea that all problems faced by voters are interrelated. He is for sensible renewable energy policies. He wants to fight illiteracy. He seems very amicable. Here, watch this video about his adoption and conquering of the American Dream:
He maintains a popular Twitter and had a funny profile done by Dave Barry, yet he remains very, very under the radar. Maybe this will help:
Rocky has a mobile game app! It is available to iPhone users and Android users, so I, being an Android user, downloaded it and already felt welcomed by Rocky. Some apps are only for iPhone people, which makes me feel bad. Rocky and his game make me feel included. Very presidential!
I've been playing the game and it is pretty fun. Users play as a horse named Rocky who races against Hillary Pigton and Don Bulltromp around a track.
Unfortunately, I was not able to win the game, even once. I guess I was running a message campaign.
h/t Ammon Miller
[image via screengrab]
For more from Lindsey, follow her on Twitter.
This is an opinion piece. The views expressed in this article are those of just the author.