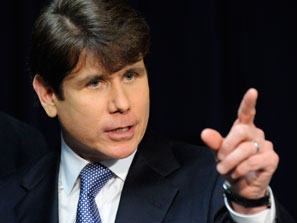 It's been nearly three years since former Illinois governor Rod Blagojevich stole the national spotlight after being arrested for dozens of counts of corruption, including attempting to sell then-Sen. Barack Obama's Senate seat. Today, after two reality shows, a mistrial, and an extended, confusing second trial for the former governor, Blagojevich was found guilty of 17 counts of corruption, including selling the President's former Senate seat.
The verdict was announced today a little after 3 PM, after the first trial ended with Blagojevich not being convicted in 23 of his 24 corruption charges (he was found guilty of one minor charge of lying to the FBI). In this one, he escaped three of the 20 charges– one "not guilty" and two "no verdicts"– but was convicted of several counts of wire fraud and bribery, in particular the primary charge of selling the President's seat. No word yet on how much jail time, if any, the charges will translate into. In the meantime, several Illinois media outlets have compiled "best of" retrospectives on Blagojevich's rise to national ignominy; this one by Central Illinois radio station WJBC is particularly comprehensive.
The second Blagojevich trial, while receiving significantly less media attention, played out somewhat differently from the first trial. While keeping most of the comical shenanigans— threats for contempt of court, arbitrary deployment of the race card, etc.– that made the first trial a must-cover news story, the second trial also featured Blagojevich keeping his promise to testify in his own defense. The latter is a choice now many are considering a risk that brought down the governor, though the new sets of tapes produced on trial also did little to exonerate him. While he had several times noted that, after being found innocent of most crimes in the first trial, he was eyeing a return to politics soon, this now seems an impossibility– as well as his other side careers on reality television, giving ethics lectures, and singing the best of Elvis Prestley aside Fabio impersonators. Fare thee well, Blago, you gave the media as much joy as you gave your constituents grief.
Video of the breaking story via Fox News below:

Have a tip we should know? tips@mediaite.com