Obama Arranges Promised Meeting Between Teenage 9/11 Victim And Justin Bieber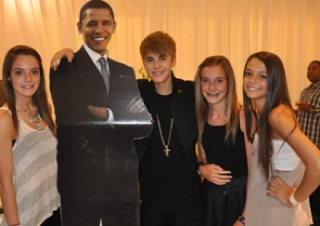 While political opponents may blast President Barack Obama for not keeping his campaign promises, he made good on at least one vow he's taken while in office today: introducing 14-year-old Payton Wall to her hero, pop sensation Justin Bieber. Wall, who lost her father in the September 11th attack on the World Trade Center, told the president she used Bieber's music to cope with the pain, and how much it would mean for her to meet him.
Wall came to the attention of the president after sending him a 1,500-word letter earlier this year, about the pain she had suffered when losing her father, an executive working at the World Trade Center that morning, and how she coped with the pain throughout the past decade. She explained in the letter that Bieber's Never Say Never had a tremendous impact on her life and helped her view the world in a more positive life despite her personal tragedy. Upon meeting the president, he told her that "I know Justin… maybe I could set something up."
And he did this weekend. Though the President was only in attendance in cardboard form, Bieber and Wall, along with some of her best friends and family, met and chatted for a while, mostly about the new perfume Bieber keeps trying to sell people, Someday:
"It was so cool. I couldn't even believe it," gushed Payton, who got a private sit-down with the Canadian crooner at Macy's in Herald Square. They met just moments after a near-riot among fans outside the store where the singer was promoting his fragrance "Someday." "He just said 'Hi,' " said Payton, who admitted she was more nervous around Bieber than the president.

The girls carried a life-size cardboard cutout of Obama and were so overcome with shyness, they could barely get any words out when the teenybopper showed up. "He was really nice and is so cute," Avery beamed. "He didn't even look real."
Bieber, Wall, and her friends posed for a photo (above) with the President's cutout for the New York Post. No word on the ramifications with summit will have for the 2012 elections, or how the current crop of Republican hopefuls have responded to the news.
Have a tip we should know? tips@mediaite.com