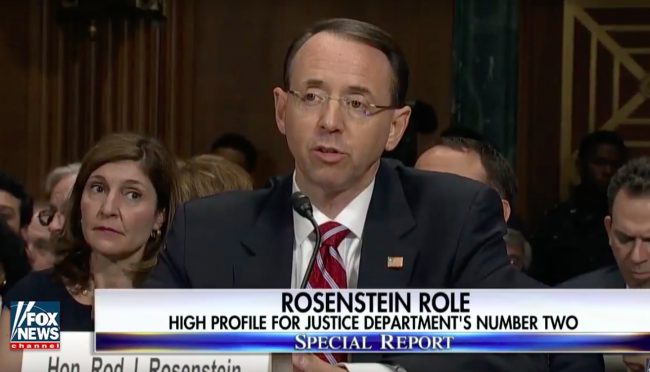 On Wednesday morning, Trump surrogates fanned out to insist that Deputy Attorney General Rod Rosenstein, a respected career federal official, was the one who instigated the dismissal of James Comey. Deputy Press Secretary Sarah Huckabee Sanders made the point quite explicitly on the morning shows.
It now appears that not only was that not true, but that Rosenstein threatened to resign over how his role in Comeygate was being portrayed by the administration.
Per the Washington Post:
Rosenstein threatened to resign after the narrative emerging from the White House on Tuesday evening cast him as a prime mover of the decision to fire Comey and that the president acted only on his recommendation, said the person close to the White House, who spoke on the condition of anonymity because of the sensitivity of the matter.
In fact, as the Post reported in a long write up, Trump decided to oust Comey after an extended period of disenchantment with the FBI director. The president was particularly incensed by Comey's recent Senate Judiciary Committee testimony in which the director said the idea that he helped elect Trump president made him "mildly nauseous."
Trump reportedly made the final call to nix Comey while on a working trip to his golf course in Bedminster, N.J. He subsequently ordered Rosenstein and Attorney General Jeff Sessions to come up with the justification. Since Sessions is supposed be recused from anything touching Russia, putting the onus on Rosenstein seems to have been the administration's only option.
[image via screengrab]
Have a tip we should know? tips@mediaite.com