Roger Ailes Apparently Asked a New Hire When She First Discovered She Was Sexy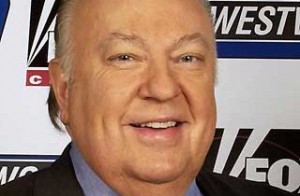 "Very persistent" is how Shelley Ross described Roger Ailes in her new essay for the Daily Dot, "Roger Ailes Sexually Harassed Me. I Thought I Was The First and Last."
Obviously, anyone who has been paying attention to the news for the last few weeks knows that Ross was definitely not the last person to allege harassment at the hands of the former Fox News CEO. After Gretchen Carlson sued last month, Laurie Luhn and reportedly even Megyn Kelly said they were harassed, too, and the stories keep coming.
According to Ross, Ailes was her last hope to get a job in television before a big writers' strike, so she was grateful when he gave her a position at NBC and invited her out to eat. Once they got to the restaurant, though, he asked, "When did you first discover you were sexy?" He went on to talk about "sexual alliances" that he wanted to form.
It took a team of lawyers to secure her job after Ailes insinuated that refusal to comply would result in the whole opportunity disappearing. (That sounds similar to what others have reported happened to them after they fought back against the alleged advances.) Here is how she described what happened:
The senior partner was Henry Bushkin, who had been Johnny Carson's lawyer for years. The clout he wielded at NBC was incalculable.

He phoned the NBC network lawyer, Mickey Rudin, who was better known as Frank Sinatra's attorney. Rudin phoned Ed "The Hook" Hookstratten, who was Tom Snyder's attorney. They all made a conference call to Roger Ailes, then back in his 30 Rock corner office.

Hookstratten began, "Roger, we're calling because you have a little 'boy-girl' problem that's come to our attention." He proceeded to lay out the details. "Hey, I'm single," Roger protested. I suspect the three attorneys then proceeded to explain why his marital status didn't matter.

I don't know what else was discussed, but after that conference call, Roger's goal was now to convince me to take the job.
She said he asked for forgiveness, she believed he was sorry, she took the job, and they worked together for years. She wrote, "There's a lot more to this story and a lot more to Roger Ailes—who cannot be painted with one simple brushstroke."
Her entire essay seems to focus less on Ailes and his tendencies to harass and more on the prevalence of sexism within the cable television industry and even within our culture on the whole. Ross' career has been marked, in part, by her determination to uncover stories of harassment and rape. Today's big push could be the next logical step.
[image via screengrab]
Have a tip we should know? tips@mediaite.com