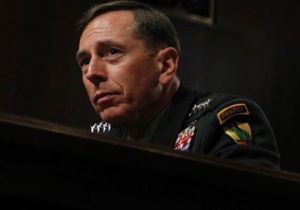 In 2011, according to a Washington Post report by Bob Woodward, Fox News chief Roger Ailes attempted (and failed) to encourage David Petraeus to run for president — a suggestion Petraeus quickly dismissed. Asked for comment, Ailes told the Post he did make an offer, but that "it was more of a joke."
The Post obtained audio of the end of a 90-minute conversation between Petraeus and Fox News national security analyst Kathleen T. McFarland, who served as a sort of proxy, relaying Ailes' message to Petraeus. Ailes, the report noted, advised Petraeus to turn down President Obama's "expected offer" to become CIA director and "accept nothing less than the chairmanship of the Joint Chiefs of Staff, the top military post."
"He says that if you're offered chairman, take it," McFarland told Petraeus. "If you're offered anything else, don't take it, resign in six months and run for president. Okay? And I know you're not running for president. But at some point when you go to New York next, you may want to just chat with Roger. And Rupert Murdoch, for that matter."
McFarland also told him that Ailes might resign from Fox News to help him with the campaign. Petraeus noted that the conversation had to be off the record. "His deal with me was that I was only supposed to talk to you," McFarland said. "And he is a little paranoid, so believe me, he doesn't have anybody in that room."
Petraeus was fairly straightforward in expressing his disinterest in running.
While rejecting Ailes' advice, Petraeus said, "I love Roger. . . . He's a brilliant guy."

Petraeus said he "would love to see" Ailes on his next trip to New York, where Ailes has his office.

"Tell him if I ever ran," Petraeus said, and then laughed, "but I won't . . . but if I ever ran, I'd take him up on his offer. . . . He said he would quit Fox . . . and bankroll it."

"Bankroll it?" asked McFarland, who served as a senior aide to Henry Kissinger and later as a Pentagon spokeswoman in the Reagan administration.

"Or maybe I'm confusing that with Rupert," Petraeus said.

"I know Roger, he's done okay," McFarland replied, "but . . . no, I think the one who's bankrolling it is the big boss."

"That might be it," Petraeus said.

"Okay," McFarland said, "the big boss is bankrolling it. Roger's going to run it. And the rest of us are going to be your in-house."
Toward the end of their conversation, Petraeus cited his wife as part of the reason he wouldn't run:
"It's never going to happen," Petraeus said. "You know it's never going to happen. It really isn't.

"My wife would divorce me," he added. "And I love my wife. . . . We have a beautiful house." Both Petraeus and McFarland laughed. "With his-and-hers bathrooms, believe it or not. I just want to live in it. I've never spent a night in it."
Petraeus, of course, never did run for president and served as CIA director beginning in September 2011. He resigned amid a scandal earlier this month, citing an extramarital affair.
Ailes spoke to the Post about the report, explaining his offer of sorts:
In a telephone interview Monday, the wily and sharp-tongued Ailes said he did indeed ask McFarland to make the pitch to Petraeus. "It was more of a joke, a wiseass way I have," he said. "I thought the Republican field [in the primaries] needed to be shaken up and Petraeus might be a good candidate."

Ailes added, "It sounds like she thought she was on a secret mission in the Reagan administration. . . . She was way out of line. . . . It's someone's fantasy to make me a kingmaker. It's not my job." He said that McFarland was not an employee of Fox but a contributor paid less than $75,000 a year.
The conversation between Petraeus and McFarland also touched upon Petraeus view of Fox News. McFarland asked whether there's "anything Fox is doing, right or wrong, that you want to tell us to do differently."
"The editorial policy of Fox had shifted," he replied, noting he'd discussed the matter with Fox News anchor Bret Baier. "It was almost as if, because they're going after Obama, they had to go after Obama's war as well."
"Papers and news outlets have editorial policies," Petraeus said. "They know sort of how their bosses feel about things . . . and it causes a certain shading," Petraeus continued.

One example, according to Petraeus: "Off the record, the New York Times was never going to give Bush or Iraq a break. I don't care what happened.
Read the full report over at the Washington Post.
Audio below, obtained by the Washington Post:

Have a tip we should know? tips@mediaite.com