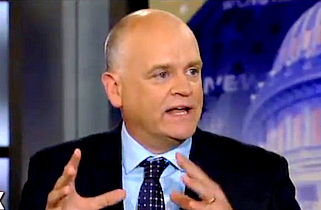 Representative Mo Brooks (R-AL) became the partisan clickbait of the afternoon yesterday when he accused Democrats of waging a "war on whites" in politicizing immigration. The comment, made during a segment on Laura Ingraham's radio show, was in response to an argument from National Journal editor Ron Fournier, who'd said on Fox News Sunday that the GOP's hardline immigration policies was demographic suicide.
Fournier's not having it. He pointed out in a column Tuesday morning that his argument was no different than the consensus of Brooks' party following its 2012 electoral defeat, including the conclusion reached in the GOP-commissioned 2012 autopsy:
Does Brooks consider the RNC and 2,600 Republicans from around the country to be anti-white? Is Dick Armey at war with whites? How about the conservative Wall Street Journal editorial page, which wrote the morning of my Fox News Sunday appearance: "The GOP again gave the country the impression that its highest policy priority is to deport as many children as rapidly as possible back from wherever they came."
(Brooks and Ingraham did in fact mock the WSJ's "deportation caucus" line earlier in the segment.)
Fournier cited fellow NJ-er Ron Brownstein's electoral analysis showing Obama winning reelection comfortably even in districts where he lost the white vote by wide margins. Fournier concluded:
You see, sir, this isn't a war against whites, as you claim, or a "race card," as Ingraham suggested. What I said is indisputably, if uncomfortably, true. Unless a broader swath of the GOP community learns to accept and adapt to the fact that the United States will soon be a majority-minority nation, the Republican Party is doomed not to lead it.
Fournier added that he also criticized the White House for passing on immigration reform when they controlled both houses of Congress. "The White House ignored me," Fournier wrote. "Brooks should have had as much sense."
[h/t National Journal]
[Image via screengrab]
——
>> Follow Evan McMurry (@evanmcmurry) on Twitter
Have a tip we should know? tips@mediaite.com