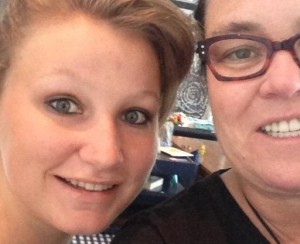 In a new interview with the Daily Mail, the daughter of former The View co-host Rosie O'Donnell claimed that she actually ran away from home to be with her boyfriend.
In case you forgot, O'Donnell announced the disappearance of her daughter Chelsea back in August. The latter was eventually found in the attic of Steve Sheerer, said boyfriend and alleged drug dealer. O'Donnell praised the authorities and her social media followers for the assistance in finding Chelsea, then used her platform to shame Sheerer for past charges and his supposed drug dealing.
According to the Daily Mail's recent interview with Chelsea, however, this isn't necessarily what happened. She specifically said that Rosie had kicked her out of the house on Aug. 11, a full week before the social media posts about her having gone missing first appeared.
"She told me to leave and take my dog," Chelsea said.

Chelsea said there were no major bust-ups at home before she was kicked out but that Rosie was aware she wanted to move out when she turned 18.

"Rosie knew I was planning to leave, that's why I think she kicked me out."
In addition, Chelsea criticized her mother's branding of her as someone with a mental illness.
Chelsea said: "I think she did that because people started asking questions and she didn't want to seem like this bad parent that had kicked her daughter out.

"Putting out there that I am mentally ill was really hurtful. People think I'm this crazy person and as I've said, I have depression and bad anxiety — but it's been something that's gotten a lot better. But these were personal things and I didn't want anyone to know them about me.

"I wouldn't say I'm mentally ill — I would say lots of people struggle with what I have."
All of this, of course, comes from the mouth of an 18-year-old girl who ran away from home and inadvertently caused a media circus. Yet it's difficult to immediately discount some of what Chelsea said, especially when she described what life at home with Rosie O'Donnell was like. The two-time former co-host of The View apparently spent much of her time "in her room, not engaging with us, or watching documentaries." Chelsea also said living with her mother was "like two different people" — the one in public, and the one at home.
Chelsea even dished on just how tense things were at home when Rosie was contemplating leaving The View the second time. Fellow co-host Whoopi Goldberg had a lot do with the decision, in turns out.
"She and Whoopi really didn't get along and she'd come home every day and talk about how she was stoned on set and she was being really mean to her," Chelsea said.

"Rosie said 'I've already had a heart attack, I don't need this much stress.'"
Back in February, Rosie clarified that she was leaving The View to "minimize my stress." This lends some credence to what Chelsea had to say about living with her mother at the time.
[h/t Daily Mail]
[Image via screengrab]
— —
>> Follow Andrew Husband (@AndrewHusband) on Twitter
Have a tip we should know? tips@mediaite.com