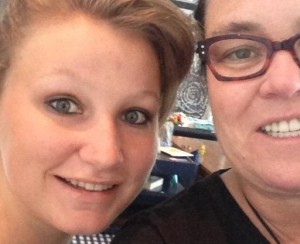 Following the news that Rosie O'Donnell's missing daughter was found on Tuesday, new details about where Chelsea O'Donnell was hiding have emerged.
Turns out the 17-year-old was found in the attic of Steve Sheerer, a 25-year-old resident of Barnegat Township, N.J. This in itself isn't all that interesting. According to Page Six, however, Chelsea and Sheerer met on Tinder. The arresting officer told the paper there was no evidence of any sexual relations between the two, consensual or otherwise.
Sheerer was arrested in 2012 for drug possession and child endangerment, according to a local news story dug up and shared by Rosie herself:
Barnegat-Manahawkin Patch: Barnegat Pair Face Drug, Child Endangerment Charges http://t.co/YbxsJeUO7y – STEVE SHEERER

— Rosie (@Rosie) August 19, 2015
Despite her relief at Chelsea being found by the authorities, O'Donnell took to Twitter to shame Sheerer:
Sheerer charged wthird-degree possession of heroin with the intent to distribute, third-degree possession of heroin, pic.twitter.com/pxfvC5rJYc

— Rosie (@Rosie) August 19, 2015
Page Six sources are never named and almost never confirmed, but this one in particular took it upon themselves to repeatedly mention Sheerer's criminal offenses, past and present:
"She is 17 and he is an [alleged] drug dealer, they met online, on Tinder. Chelsea is mentally ill, it is a parent's worst nightmare.

"Rosie is relieved that Chelsea is back but is frightened for her daughter, she is extremely upset that Chelsea was with this guy. He's 25, a heroin dealer who lives with his mother."
Sheerer's drug offenses and O'Donnell's efforts to shame him aside, the 25-year-old supposedly lied to police about knowing where Chelsea was, according to the Daily Mail. She was subsequently found in his attic with her therapy dog.
[h/t Death and Taxes]
[Image via Twitter]
— —
>> Follow Andrew Husband (@AndrewHusband) on Twitter
Have a tip we should know? tips@mediaite.com