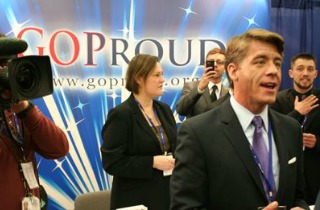 The Conservative Political Action Conference dropped its long-standing objection to allowing gay-rights groups like GOProud to appear at that annual gathering of conservatives. And all it took was that organization's founder leaving the Republican Party in protest of what he said was its acceptance of the "forces of intolerance."
At least, this is the impression left by National Journal on Wednesday, which published the blaring headline, "CPAC welcomes back gay-rights groups after years of exclusion." They should probably have asked gay-rights groups how they felt about the new arrangements.
RELATED: GOProud Founder: Republican Party is the 'Last Place in America' for 'Forces of Intolerance'
"We welcome GOProud's attendance at this year's CPAC conference," said American Conservative Union executive director Dan Schneider in an email to National Journal reporter Beth Reinhard. "I believe their presence could help establish a productive relationship in the future." The piece continued:
Two former GOProud summer interns, Ross Hemminger and Matt Bechstein, took over last summer and sought to repair the bitterly frayed relationship. Under a compromise reached last week, they will attend the March 6-8 gathering as guests, without sponsorship or a booth. GOProud sees the lower-profile role as an important first step.
But this "important first step" is not being greeted as some grand gesture by GOProud co-founder Christopher Barron. The terms set by CPAC — that GOProud may attend the conference only as guests and not sponsors — are no different from the terms set in 2013 when the conference allowed pro-gay-rights conservatives to attend but not participate in CPAC. He seems… perturbed.
CPAC's slightly more liberal (forgive the term) approach toward accepting, if not embracing, conservative heterodoxy includes wading cautiously into the marijuana legalization debate with a sponsored panel on that topic and inviting New Jersey Gov. Chris Christie to speak at the conference. These are welcome steps, but timid overtures like these are not keeping pace with the rapid evolution of conservatism.
The question conservatives involved with this conference appear to be focused on are which groups provide the ACU and the movement as a whole with greater value. They would seem to view this event as more an exclusive club than a big tent political gathering. But, if that is the case, it is beneficial to review just how much value each group brings to the Republican table.
Certainly, GOProud co-founder Jimmy LaSalvia's shots at the GOP in media outlets like MSNBC will understandably rub conservatives the wrong way. But it was Heritage's political action wing, not GOProud, which pushed for and succeeded in forcing the most obviously disastrous political misstep in more than a year: the government shutdown.
It was not GOProud's actions that resulted in a Democratic revival and a shocking disparity favoring the president's party in the generic congressional ballot. It was not GOProud that marshalled more than half a million dollars and launched digital advertising campaigns designed to reduce the support of conservative lawmakers in their districts in pursuit of that ill-conceived political maneuver.
What's more, it is not GOProud that is petulantly threatening not to take part in an increasingly insular political conference if it is not able to threaten the event's organizers into sharing their point of view. There is room within the conservative movement for both these groups, but only one seems to see it that way.
In 2013, LaSalvia, GOProud, and a host of pro-gay Republican opinion leaders did attend CPAC… in a fashion. Last year, the Competitive Enterprise Institute sponsored a panel discussion entitled "A Rainbow on the Right: Growing the Coalition, Bringing Tolerance Out of the Closet." It was held in the same building and sponsored by one of the hosts of CPAC, but the confrontational event was not a part of that conference.
It was rather well-attended: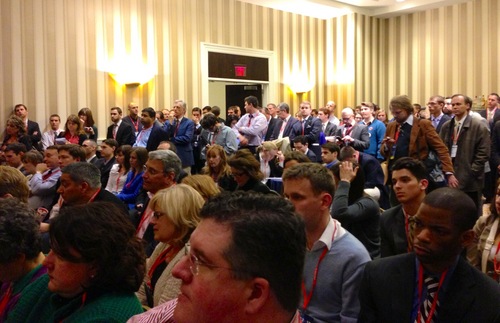 If pro-gay conservatives care to expend the energy, something similar is certainly called for again this year. But even protesting CPAC may have become an exercise in futility. The ACU's diminished stature as a result of their cowardice has had the effect of making CPAC, a once respected institution, a virtual nonentity.
Protests and boycotts of CPAC by those on the right who favor inclusivity may simply not be necessary. When a distasteful group is swiftly marginalizing itself, it might be best for its opponents to just get out of the way.
[Photo via GenProgress.org/MetroWeekly]
— —
> >Follow Noah Rothman (@NoahCRothman) on Twitter
This is an opinion piece. The views expressed in this article are those of just the author.