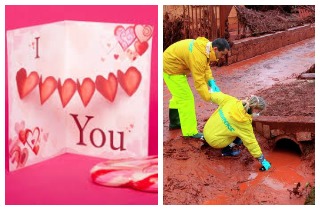 The environmentalist movement's rapid evolution into a sect of scolds who derive no greater joy than when they are criticizing the simple pleasures of others, and exalting their own superiority in the process, reached its pinnacle on Thursday. While heaping scorn on "saccharine holiday" of Valentine's Day in the pages of The New Republic on Friday, columnist and environmental scholar Jeffrey Ball informed his lonely readers that the sham holiday they weren't planning on observing anyway is also, like all things pleasant and beloved, a threat to the stability of earth's climate.
Ball began his assault by reinforcing his readers' belief in their own cultural and intellectual dominance by insisting that ignoring the holiday is a "noble social protest," thereby rendering his ostensibly substantial critique of the environmental impact of traditional forms of Valentine's Day observance suspect. But he continued anyway.
"According to the industry's trade group, some 145 million Valentine's cards are sold in the U.S. every year," Ball wrote. "Those cards are ridiculous not just because of the sappy sayings on their covers. They're ridiculous because, on a planet of seven billion people, it's nuts to buy a piece of card stock, place it into a paper envelope, and give it to someone who (I love you, honey) will smile at it, stuff it in a sock drawer, and, almost certainly, never glance at it again."
Indeed. Such embarrassingly human displays of sentimentality should exist only in environmentally friendly and intangible memories… if at all.
If you think that this assault on Valentine's Day is merely a Fort Sumter in the coming environmentalist war on all things enjoyable, you'd be correct. Indeed, Ball foreshadows future battlegrounds where his ideological brethren will soon aim their perpetual campaign of shame. Everything from driving cars, to drinking cold beers, to eating hamburgers have, he claims, outsize environmental impacts. But Ball admits he is not yet prepared to forego these selfish pleasures. He is, however, not especially attached to Valentine's Day, so he is demanding that you be share in his antipathy.
Ball attempted to estimate the precise carbon footprint of the average greeting card and its accompanying envelope. After admitting that estimates vary wildly and it is impossible to accurately peg the environmental damage wrought by a single love note, he nevertheless continued to shame the public and lament that it is unlikely that most will never abandon traditional Valentine's Day greetings in the name of preserving the climate.
Ball closed with an act of the purest bravery. He noted that, while writing the post, he was asked by his 10-year-old daughter for a box of chocolates and a Valentine's Day card. Moved by this request — a charge he leads his reader to believe he would have declined but for a child's entreat — Ball confessed that he ignored his own advice and bought both.
As of last summer, The New Republic's print edition passed the 50,000 in paid circulation mark. Their readers can pay about $60 for two years' worth of a monthly magazine whose glossy pages presumably impact the environment far more than the average greeting card, but they happily do so to have their egos fluffed in this manner. Perhaps TNR will take Ball's advice and go digital … if only Ball had made this recommendation.
[Photo via Spoonful/Reuters]
— —
> >Follow Noah Rothman (@NoahCRothman) on Twitter
Have a tip we should know? tips@mediaite.com