Iranian President Rouhani Responds Directly To Twitter Founder Dorsey Re: Accessibility Of Twitter In Iran
One of Twitter's original founders and current chairman Jack Dorsey casually asked Iranian President Hassan Rouhani if citizens of Iran can read their leader's tweets Tuesday and thanks to the direct communication the service provides received his answer less than six hours later.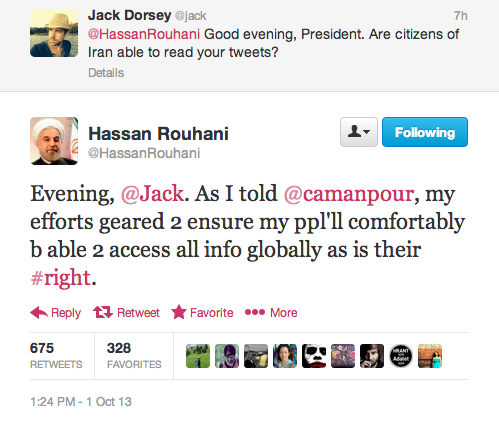 Rouhani did not exactly answer Dorsey's question directly, but rather reiterated the point he made to CNN's Christiane Amanpour during an interview last week. That interview got more attention for the controversy over whether Rouhani actually used the Farsi word for "Holocaust," but it also contained a discussion about Iran's decision to block access to Twitter, Facebook and other social networks.
"All my efforts are geared to ensure that the people of Iran will comfortably be able to access all information globally and to use it," he told Amanpour. "There are large social networks at a global level around today. And I believe that all human beings have a right, and all nations have a right to use them."
Rouhani again described the access to global info as a "right" in his tweet Tuesday, though this time he employed a hashtag (#right) to make his point. The country's access to social media sites was briefly restored earlier this month, but after it was cut off again, officials chalked it up to a "technical glitch."
So far, Rouhani has suggested to Amanpour and Dorsey that Iranians ought to have access to Twitter, but as of now they remain in the dark, not even able to read their own president's tweets.
[image via Twitter]
— —
>> Follow Matt Wilstein (@TheMattWilstein) on Twitter
Have a tip we should know? tips@mediaite.com