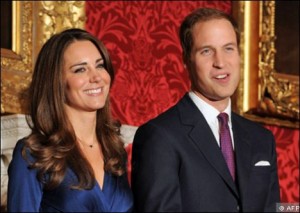 Perhaps you've heard that England is preparing for a real-life version of a recent Lifetime television movie. Perhaps you're even among the 6 percent of Americans who care about such a thing. In any case, comedians were probably preparing to do what they do best – poke fun at the Royal Wedding™ and the media hubbub surrounding it. The Royal Family, however, will have none of that: It has banned satirical coverage using footage of the event.
And the ban extends beyond comedians in England: An Australian comedy troupe known as "The Chaser Boys" was recently informed that they would have to cancel their planned satirical coverage of the wedding Wedding for the Australian Broadcasting Network because the Royals have declared that footage of the event coming out of Westminster Abbey "cannot be used 'in any drama, comedy, satirical or similar entertainment program or content.'"
The AP clarified the regulations for the Columbia Journal Review:
This restriction on the use of material by non-news programs pertains to video from Westminster Abbey, as agreed between Clarence House, representing the royal family, and all the broadcasters transmitting from the church, including Sky News, which will feed the AP. It will have minimal impact on AP customers since most AP contracts stipulate that the material is for news use, with other programs referred to AP Archive.
But what impact will this have on American coverage? Will we be allowed to proceed with the irrelevant attitude and subpar comedic sketches that make American television so great? And more importantly, will anyone beyond the six PR interns living in Murray Hill, planning to wake up at 6 a.m. tomorrow morning to watch the Royal Wedding™ amid too many cupcakes and bodega wine served in plastic cups, even care? The answer is: "Meh."
h/t CJR
Have a tip we should know? tips@mediaite.com