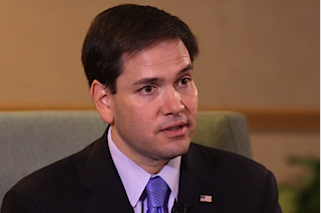 Over the past two weeks, Sen. Marco Rubio (R-FL) has told Fusion's Jorge Ramos that he would attend a loved one's same-sex wedding and confirmed to CBS' Bob Schieffer that he believes sexual orientation is not a "choice." But during an interview with the Christian Broadcasting Network's David Brody over the weekend, Rubio struck a different tone on gay rights.
With arguments on the constitutionality of gay marriage beginning again at the Supreme Court on Monday, Rubio asserted, "There is no federal constitutional right to same sex-marriage."
"You would have to really have a ridiculous and absurd reading of the U.S. Constitution to reach the conclusion that people have a right to marry someone of the same sex," Rubio continued. "Can a state decide to change their laws?" he asked. "Yes, but only through the political process, not through the court system and that's what is happening now."
"The advocates of same-sex marriage refuse to go to the legislatures because they can't win that debate, they don't want to have a debate in society," Rubio argued. "They want courts to impose it on people and they are not even satisfied with that. They have now gone further. They want to stigmatize, they want to ostracize anyone who disagrees with them as haters. It's very simple. This is not a policy against anyone."
"I believe, as do a significant percentage of Americans, that the institution of marriage, an institution that existed before government, that has existed before laws, that institution should remain in our laws recognized as the union of one man and one woman," the frontrunner Republican presidential candidate concluded.
RELATED: Rand Paul Courts Evangelicals: Gay Marriage Result of 'Moral Crisis'
Rubio has attempted to brand himself as the candidate of the future in opposition to Hillary Clinton, who he said in his campaign announcement speech hails from "yesterday." But as CNN's Jake Tapper told him earlier this month, "On that issue, same-sex marriage, Senator, you're the candidate of yesterday." That's because, according to the most recent polling, more than half of all Americans, along with 61% of young Republicans, are in favor of legalizing same-sex marriage nationwide.
Watch video below, via CBN:
[h/t RWW]
[Photo via screengrab]
— —
>> Follow Matt Wilstein (@TheMattWilstein) on Twitter
Have a tip we should know? tips@mediaite.com