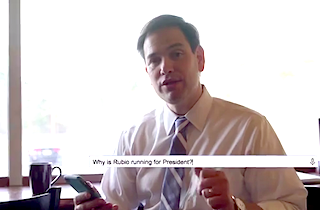 Last week, Vocativ.com put out a list of the most common Google searches about both Hillary Clinton and Marco Rubio. Aside from the question, "Is Hillary Clinton married?" none of the queries were all that remarkable.
Now, in an attempt at full transparency, Rubio has produced a video in which he answers those burning questions on voters' minds. But he did make one glaring omission.
Rubio happily tells viewers how old he is (43), what nationality he is ("an American of Hispanic dissent"), and whether he is running for president ("Absolutely"). We learn that he is not a Democrat, that his Senate term is up in January 2017, "which happens to be when we're going to swear in a new president," and that he is a Roman-Catholic conservative.
Then, mysteriously, Rubio skips over question number 10 on Vocativ's list: "Has Marco Rubio served in the military?"
The candidate proceeds to answer more innocuous questions like number 11, "Is Marco Rubio a twin?" (No, but people must be confusing him with Texas' Democratic Castro brothers). He also uses the opportunity to explain why he's running for president and tell people how they can volunteer on his campaign.
So, why leave out the military question? Well, from a political campaigning perspective, it's obviously because the answer is that he does not have any military experience — something presidential candidates make hay about every time it comes up. Neither do his current GOP rivals Sen. Rand Paul (R-KY) and Sen. Ted Cruz (R-TX). Possible candidate Gov. Scott Walker (R-WI) never served in the military and Jeb Bush registered for the draft in 1971 but was never called to fight in Vietnam.
Did Rubio attempt to hide something or did he just not find the question relevant to his campaign for president? Interestingly there was one other question the senator declined to answer: "What has Marco Rubio done?"
Watch video below, via YouTube:
[Photo via screengrab]
— —
>> Follow Matt Wilstein (@TheMattWilstein) on Twitter
Have a tip we should know? tips@mediaite.com