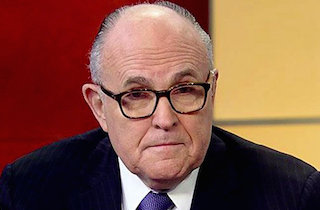 When Rudy Giuliani told a room full of conservatives last month that he doesn't believe President Barack Obama "loves America," he prefaced it with the warning, "I know this is a horrible thing to say, but…" Now, this morning, in an interview with AM 970 radio host John Gambling, the former New York City Mayor said of the president, "I hate to mention it because of what happened afterwards, but [he should be saying] the kinds of stuff Bill Cosby used to say."
Giuliani was referring to Cosby's history of saying things people don't always want to hear about African-American culture. "What happened afterwards" was the more recent revelations about the dozens of women he allegedly raped over the years.
According to the New York Daily News, Giuliani blamed Obama not only for the shooting of two Ferguson police officers late last night, but also for a beating that happened in a Brooklyn McDonald's this week.
"It all starts at the top. It's the tone that's set by the president," Giuliani said, arguing that Obama ignores an "enormous amount of crime" committed by African-Americans. "It is the obligation of the President to explain… that our police are the best in the world."
Perhaps in an attempt to avoid the controversy that followed his comments about Obama's patriotism, Giuliani added, "I disagree with Barack Obama on almost everything, but I think he's a good family man and a good man."
Listen to audio of the full interview below (Cosby comments come around the 7 minute mark), via AM 970's The Answer:
[Photo via screengrab]
— —
>> Follow Matt Wilstein (@TheMattWilstein) on Twitter
Have a tip we should know? tips@mediaite.com