Rudy Giuliani To Visit Critical 2012 State New Hampshire, But 'Just To Hang Out'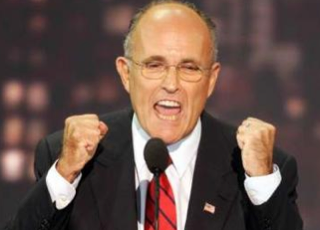 Former New York mayor Rudy Giuliani wasn't really on anyone's mind as a potential 2012 candidate since his disastrous Florida-only campaign in 2008. But ever since a CNN poll showed him performing remarkably well among independents, the whispers that Giuliani may be contemplating throwing his hat in the ring have gotten all the louder. Adding fuel to the embers, Giuliani told a crowd at an ALS benefit he was planning on visiting New Hampshire, but not for campaigning for anything.
The New York Observer reports that Giuliani has started to play the coy game that most unofficial candidates began several months ago, saying he "doesn't know yet" rather than a direct answer about his presidential ambitions, though noting that he has "always had the desire" to be President: "Who wouldn't have the desire!" The Observer then notes that Giuliani is planning a rather convenient trip to New Hampshire:
Whether Mr. Giuliani will run for President or not is a guessing game the former mayor clearly enjoys indulging-before introducing former Massachusetts Governor Paul Cellucci at the ALS benefit, Mr. Giuliani told the crowd he planned "to go to New Hampshire—just to hang out."
At this same dinner, Giuliani also took the opportunity to chat about the most prominent threat to the welfare of the average American today: the possibility that an indiscreet picture of Rep. Anthony Weiner made its way to the internet last week. "I don't know why you wouldn't want the FBI to investigate this!" Giuliani argued, scratching his head at Weiner's behavior.
Have a tip we should know? tips@mediaite.com