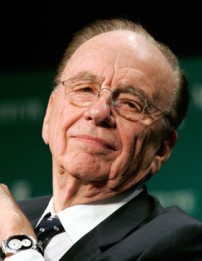 What else is there left to say about Rupert Murdoch. He's like the Lindsay Lohan of the media world in his ability to generate copy about his life and loves and Shakespearean family relations. The latest is a New York cover story penned by Gabriel Sherman that was burning up Twitter last night when it went live on line.
The lengthy piece revealed a number of the sort of juicy tidbits media folk who pay attention to the worlds of Murdoch love to munch on.
Times Co. chairman Arthur Sulzberger Jr. laughs in the face of seriously intended "Let the battle begin!" notes from Rupe.
Rupert Murdoch has an "Ahab-like" obsession to beat the Times which lead him into the "worst deal he ever did" namely, his purchase of the WSJ.
Rupe may have Google as much or more as he hates the Times and his senior executives are "in talks with Microsoft about possibly pulling all of News Corp.'s content from Google and signing an exclusive distribution deal with Bing."
James Murdoch, Rupe's son and (possible) heir apparent, has consistently been making power grabs — some successful, some not. Also, the heir part is apparently not guaranteed: "But as much as James wants the succession question closed, it must be frustrating for the would-be heir that Rupert keeps his options open. Earlier this month, Rupert took Lachlan on a sailing trip in the South Pacific along with Ailes. It was Ailes and Lachlan's first reunion since they clashed five years ago; a surprising move that reignited speculation that Rupert is trying to repair relations and bring Lachlan back into the empire. Elisabeth, too, is hovering in the background.
His mother loves him, but isn't so hot on his wife Wendi and their children.
Have a tip we should know? tips@mediaite.com