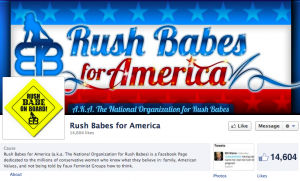 Rush Limbaugh has launched a new online campaign geared toward the ever-discussed demographic of women. "Rush Babes for America" is dedicated to "the millions of conservative women who know what they believe in: family, American values, and not being told by faux feminist groups how to think."
Limbaugh explained:
"As you know, sometime later this month, the femi-Nazis are going to be working with Media Matters for America and kicking off some giant program, some coordinated plan, to have me taken off the air under the premise that women hate this program, and that this program is an unfriendly environment for women, and that this program laughs at, impugns, makes fun of women."
He further noted that many women are "fed up" with hearing that Republicans want to take away their birth control. In his opinion, this group is filling a void left by other women's groups. Other groups "claim to represent all women, and in reality they represent a tiny number of highly-agitated activist types — basically miserable and unhappy women, for whatever reason," Limbaugh said. "And they've turned them into liberal activists and agitators and community organizers."
His group, he said, is a "contrast" to NAGs (National Organization for Gals) and NOW (National Organization for Women).
Said Limbaugh spokesman Brian Glicklich, via The Blaze:
"NOW does not represent millions of women who have a principled opposition to it's agenda," he told The Blaze in an email. "'Rush Babes for America' is a reminder of how large and powerful a bloc conservative women are."
Take a listen:

(H/T The Blaze)
Have a tip we should know? tips@mediaite.com